Ever wanted to be a spy like 007 James Bond? All of the spy gadgets described in this article are publicly available on Amazon.com.
Best Spy Gadgets
Pros
One-click to start recording
Lens cap hides the lens when not in use
Can be used for writing and comes with ink refills
Cons
75 minutes of recording per charge
Connect to device via network cable only
feature:This hidden spy camera is more of a professional spy device than a gimmick or a toy, as it actually resembles a regular pen and can be used for writing.
This hidden video recorder spy pen camera captures Full HD 1080p video and provides up to 75 minutes of footage per charge. It saves files to the included 32 GB microsd card, and can be set up for continuous loop recording or as a stationary (no pun intended) surveillance camera.
This hidden camera pen has a very unobtrusive appearance, similar to a common office ballpoint pen. It also cleverly uses the back button as its on/off and recording control switch, so while in use, you won't be seen fiddling with the pen or pressing suspicious buttons that regular styluses don't.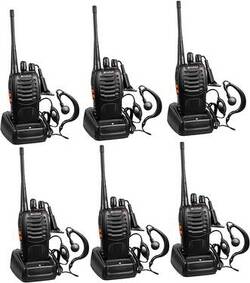 Pros
16 programmable frequency channels
1500 mAh rechargeable battery for all day or overnight use
Includes hands-free headset
Cons
Zoom out in mountains and canyons
Lacks GPS, not as high-tech as some competitors
feature:This UHF two-way radio comes with a pair of handset and earpiece for hands-free use, making it easier to use in the vehicle or while investigating a mystery. It operates on 16 channels via a simple switchable rotary dial.
The set comes with two radios and two hands-free headsets, perfect for use in cars and city exploration.
Each radio is powered by a 1500 mAh battery with a charge time of approximately 2.5 hours, providing a charging time of 8 to 96 hours. The package comes with 16 channels with custom frequencies within a range.
Pros
Comes with iPhone or Android APP
SIM card data logging and GSM tracking
Global coverage
Cons
Monthly fee required
Battery life for standard trackers is limited to around 30 days
feature:Small and magnetic, this GPS tracker works with both GSM and GPS systems for combined indoor/outdoor tracking. It also comes with a smartphone app that supports features like geofencing and programmable alerts.
Not only is this magnetic gps tracker the smallest of its kind, measuring just 1.8 x 1.6 x 0.7 inches, it's also high-tech, capable of receiving and transmitting location data from WiFi routers as well as cell towers and GPS. This gives it global coverage and the ability to continue tracking indoors near a WiFi router, improving location accuracy.
While like most GPS trackers, it does require monthly cell service, this SIM-based location tracker offers extra functionality thanks to its easy-to-setup smartphone app. This isbest GPS trackerone. Boundary alerts, mobile alerts, and scheduled updates can be set using the app. Battery life in sleep mode is about a month, but an optional larger battery is also available for six months of standby time.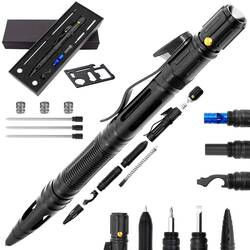 Pros
Multipurpose, including magnesium igniter
looks like a normal ballpoint pen
Clever packaging gives it James Bond "Q" appeal
Cons
Switching between different "heads" is cumbersome
Knives are too small to be of much use when cutting wood
feature:This tactical pen has 10 functions, including those of a regular pen. It also comes with an extra multi-tool card, screwdriver, glass breaker, magnesium alloy ignition stick and LED flashlight.
If you're looking for a true spy gadget to keep the nice James Bond aesthetic, this versatile EDC tactical pen is the target. Not only does it look like a regular ballpoint pen, but it also writes like a regular pen. It also includes an LED flashlight, a magnesium igniter, a rope cutter and a glass breaking tool.
In addition to pens and ink refills, you can also get a card-style multi-tool, which is a great EDC item whether you're a secret agent or sometimes just need to fix things around the house or garage.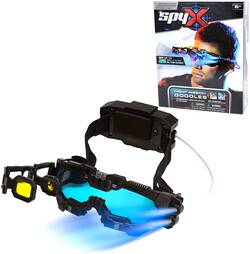 Pros
Great for nighttime laser tagging
Battery pack lasts for hours
comfortable headband
Cons
Range limited to about 25 feet
Not true "night vision", but dim but visible LEDs
feature:Perfect for spy games in the park or camping trips after the sun goes down, these spy goggles feature a long-lasting battery pack and a comfortable headband.
Designed for advanced forms of gaming, laser tag, "bond" and "hide and seek", these fun goggles are a great accessory for summer camps, camping trips, and for kids and adults to play on summer nights. They come with a built-in battery pack that lasts for hours, and the adjustable headband allows them to comfortably fit a variety of head sizes.
This night vision goggle is much simpler than similar products, using a dim LED light and high-contrast lenses to enhance vision in the dark instead of displaying infrared light.
Pros
true UV protection
Concealed mirrored lenses let you see behind you
Flexible, durable plastic frame
Cons
only one size
May not be everyone's aesthetic
feature:A classic spy gear, these mirrored sunglasses come in a convenient three-pack that's a great option for a secret agent-themed birthday party.
A classic in spy gear, these mirrored sunglasses allow you to see what's behind you, enabling discrete viewing and early knowing if someone is following. This product comes in a pack of three with a durable, flexible plastic frame. Plus, these cool spy gadgets are real sunglasses too.
Lenses provide UV protection as well as rear view mirrors, they are great party favors for spy themed birthdays, secret agent games.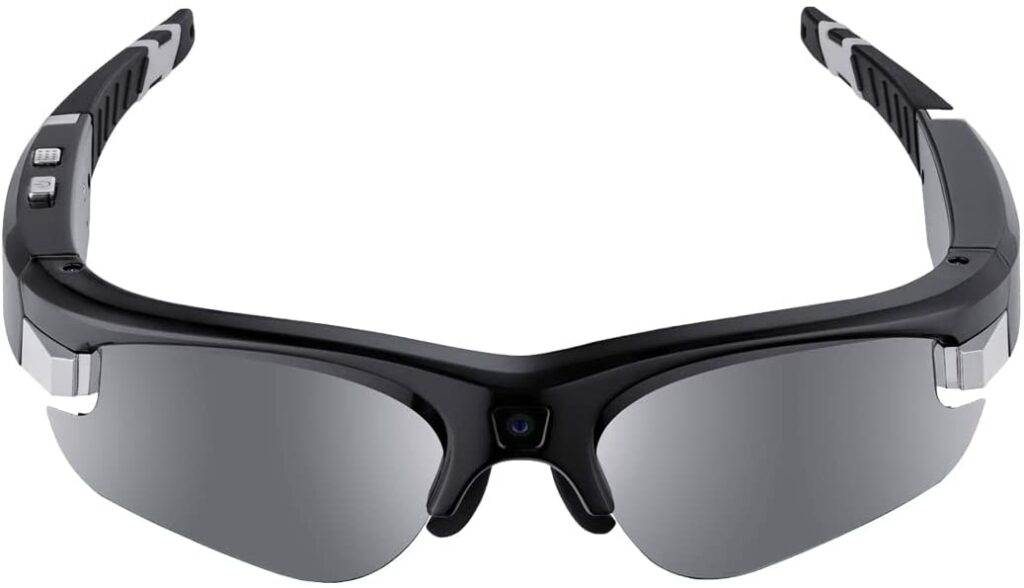 Pros
small and hidden lens
True 1080p camera system
Record to included micro SD card
Cons
Wireless is not supported
Wrap-around styles aren't as discreet as Wayfarer sunglasses
feature:These hidden recorder sunglasses can save up to 1.5 hours of video to an SD card, and with one-touch recording, they are very convenient and easy to use.
These sunglasses double as a hidden camera, using a tiny lens to record to the included micro SD card. The battery is located in the sunglass wraparound frame and is rechargeable for approximately 1.5 hours of shooting. Where this particular spy device really stands out is its convenient one-touch recording, as well as a looping feature.
The resolution is also pretty good at 1080p, more than most tiny hidden spy camera devices can do. Since they have a decidedly "tactical" look, this style may not necessarily be to everyone's taste.
Pros
Unobtrusive and professional appearance
USB file transfer for listening playback
Support voice-activated recording
Cons
Playback on Mac OS devices requires driver download
feature:This hidden pen listening device looks like a regular high quality pen and can even be used for writing, good for 16 GB of audio or enough for 190 hours of recording.
This spy pen is discreet and unobtrusive, with little disclosure of its true purpose. Unlike video pens, there are no obvious lens points to arouse suspicion. It can also be voice activated and use an everyday USB 2.0 cable to charge its battery and transfer files.
The built-in 16 GB of memory is enough to store up to about 190 hours of audio in MP3 format, supports high-quality professional dual-channel output, and can play this spy pen recorder paired with a set of headphones, and can also be used as an MP3 player.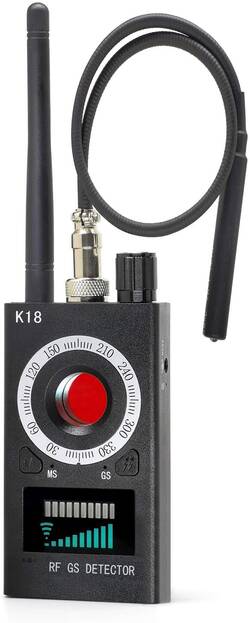 Pros
Easy-to-use knob controls
Detects RF frequencies from 1 MHz to 6.5 GHz
Also includes laser and magnetic field strength sensors for picking up wired devices
Cons
Shows only signal strength, not location
Can be time consuming to use
feature:This RF detector and bug finder device features automatic detection and signal strength indication, which can be used to debug rooms and discover hidden listening and wireless transmissions.
With the ability to detect wired and wireless listening devices, GPS trackers, and SIM card vulnerabilities, this handy anti-spy tool can be used to check whether a room or vehicle has been "wired into". It can be set to scan passively and notifications can be turned on or off.
The detachable antenna enables its RF sensitivity in the 1 MHz to 6.5 GHz range, so it can receive GSM, WiFi and microwave signals. With anti-jamming features, the tuner can be easily adjusted using a simple, convenient rotary dial. In addition to basic physical security measures and protecting your connected devices, using such devices to clear a space can help detect espionage in the office, at home, or while traveling.
Pros
Ultra-small size, only 1.6 x .87 x .63 inches
Comes with belt or backpack clip
Motion detectors are great for logging break-ins and intrusions
Cons
SD card required but not included
Use an AVI format that is not as widely supported as MP4
feature:This versatile and affordable camera can be worn as a belt clip or installed in a room for continuous recording for security and surveillance. It's motion-activated, compact and can record up to 90 minutes per charge.
This tiny video recorder shoots up to 90 minutes of full HD 1080p footage on a single charge, and it can activate motion; it measures just under 2 inches by 1 inch and fits in an old air freshener plug or mint box. Recording without an outlet or Wi-Fi connection gives you more options as to where you can place it in the room.
This spy camera also comes with a belt and double-team and wall mount, allowing it to be used as an "action camera" in a pinch. The lack of Wi-Fi means the card has to be removed and inserted into a computer or card reader to see the footage, but it also helps prevent the camera system from being hacked.
Buyer's Guide to the Best Spy Gadgets
The most important features to consider
power supply
Power issues are often an issue when considering various types of high-tech spying tools. It's not very helpful for a GPS tracker to drain the battery in too short a time, and likewise, it's easier to detect "errors" that use too much power or draw from an outlet. As such, some professional spying devices are designed to use as little electricity as possible, while some high-tech listening devices are powered by ambient WiFi or microwave signals.
Wireless and Physical Connections
A wireless connection that enables remote access to data and files can be an advantage. GPS units inherently have to use a wireless signal, and the best spy GPS tracker models have multiple frequency bands, including GSM and Wi-Fi, as well as a "sleep" mode that camouflages their presence. On the other hand, for some devices, the safest wireless connection is no wireless connection at all. "Air-gapped" devices, i.e. devices that are never connected to the internet, are inherently more difficult to hack remotely.
discreet look
Some true spy gadgets are masters of disguise, while others will only fool the most casual or unsuspecting observer. Depending on the goal and the situation, espionage gear that is actually overlooked can be critical.
Spy Gadget FAQ
What gadget do you need to be a spy?
First, in addition to finely honed powers of observation and quick thinking, tools such as a spy pen that doubles as a multi-tool or even a spy pen hidden camera may be required. You can also get a pair of mirrored spy sunglasses or a USB stick.
How to make a homemade spy gadget?
There are all kinds of homemade spy gadgets, from the simple to the "mad scientist" complex. Some of the best DIY investigative or anti-surveillance tools involve simple modifications to existing hardware, such as the old "tape on a Macbook camera" trick, or even physically disconnecting the internal microphone from your laptop and other devices.
What is a spy gadget?
Spy gadgets can be anything from magnifying glasses to sophisticated radio frequency, microwave and laser detectors. Often when people think of spy gear, they think of cleverly disguised tools like spy pens, which are also microphones, hidden cameras or lock picks.
What is the best spy camera?
While the old adage "the best camera is the one on you" certainly applies to spy cameras, if you're buying a hidden camera there are some special features to consider, such as how well it's camouflaged or hidden, and whether it requires a Wi-Fi signal Or record to physical media. In general, the widest possible field of view and the lowest possible power consumption.