Truthfinder By searching millions of data points, you can find almost any information about everyone in the United States (except protected by law): family, education, social relations, property, address, crime, neighbors, colleagues, scammers, etc., All relevant information (including public records) of the investigator is compiled into an easy-to-read report. The following information will be disclosed in the report:
Amazon Wish List
Arrest record
assets
partner
Bankruptcy information
Census data
Hidden weapons license
company documents
Criminal record
date of birth
Dating profile
learning experience
e-mail
work experience
Hunting license
Location record
Pilot license
Possible judgment
Possible neighbor
Professional license
Owned property
Sex Offenders Database
Social profile
social Security number
trademark
personal information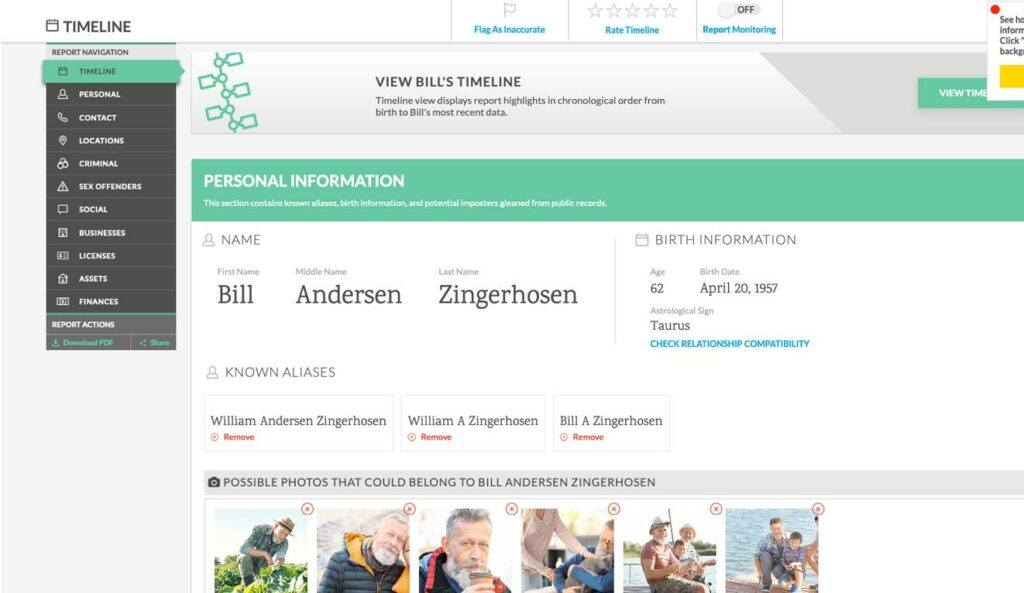 The content of this part is as follows:
If you want to know whether this person has been married and the actual age, then this is the first part to check.
If the name is very popular, then the results need to be filtered-add middle name, age, and last known status toNarrow the results. If the name is a less common family member, check the "Probable Relatives" section of the TruthFinder report.

Photo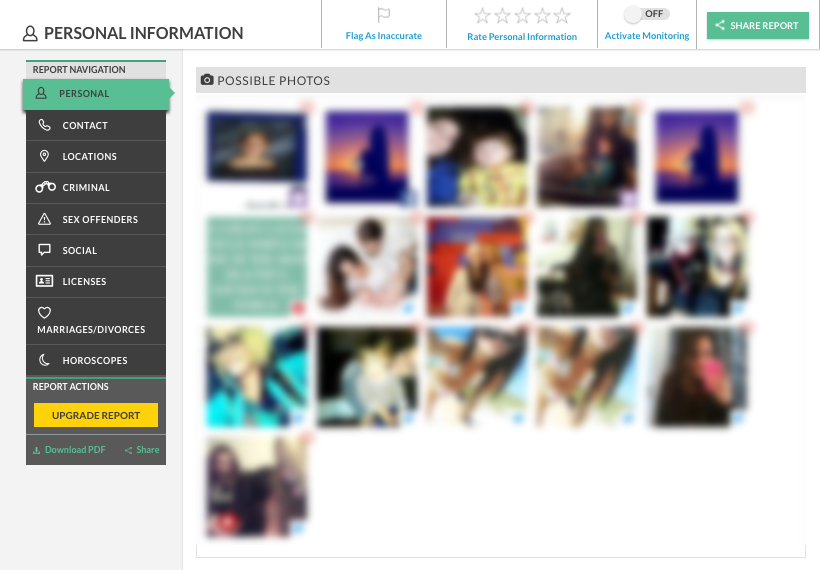 A picture is worth a thousand words.
Maybe you don't know what this person really looks like, but you may know photos, pictures, or some images circulating about this person on the Internet. These pictures are clues to finding this person.
TruthFinder grabs images from various social media materials and combines them in the report. You can easily identify and verify the search object, whether it is the person you want to find.
Search for yourself in Truthfinder (if you are in the US),See what information is exposed to the public
Work

In the TruthFinder report, you can find someone's work experience. Strange neighbor who never goes to work? Maybe he is building a technological empire in that basement. Your son's girlfriend said she works in a certain restaurant? However, her work experience proves that she works in a strip club.
hint:People are most likely to lie financially and professionally. If someone lied to you about something, then that person is likely to hide a bigger lie in an important place. Use background checks to verify their stories and measure honesty.
educate
Are you curious about the profession of your date? Your friend claimed to have graduated from an Ivy League college. TruthFinder standard reports can reveal educational history, including:
School name
Professional
study-time
relative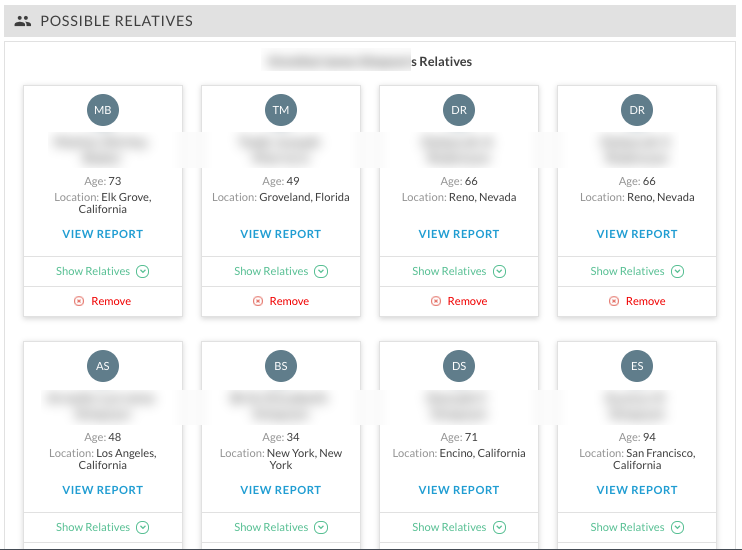 Through the list of relatives, you can study the genealogy of yourself or others to find out whether someone is married. TruthFinder membership allows unlimited searches, and you can spend hours sifting through the family history of yourself or others.
Relative's name
age
address
If you can't find a person through a normal search, you can find the person by searching for the person's relatives. For example, John Smith is not easy to find, but the relatives of Matilda Bennett-Smith have the name John.
If you want to know if someone is married, look for family members who are similar in age and location. Open the report and scroll down to the social media profile or possible photo to confirm.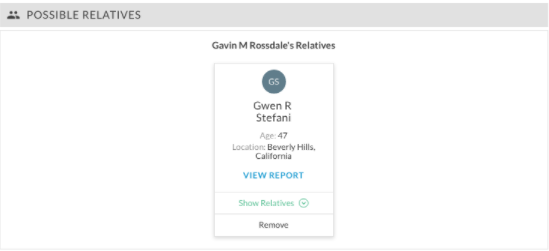 Related Links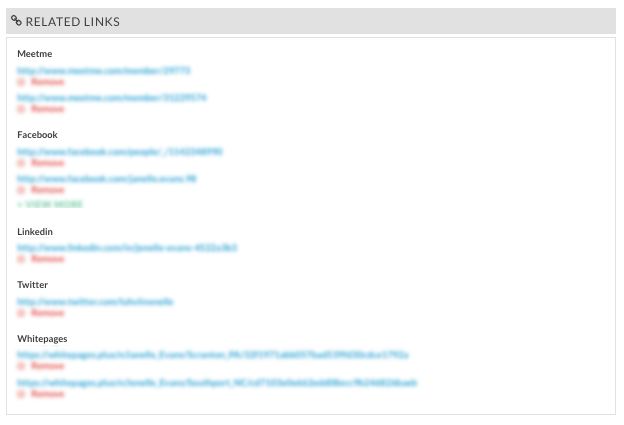 Contains the following:
Secret dating profile
Hidden social media accounts
The person's blog
News reports about this person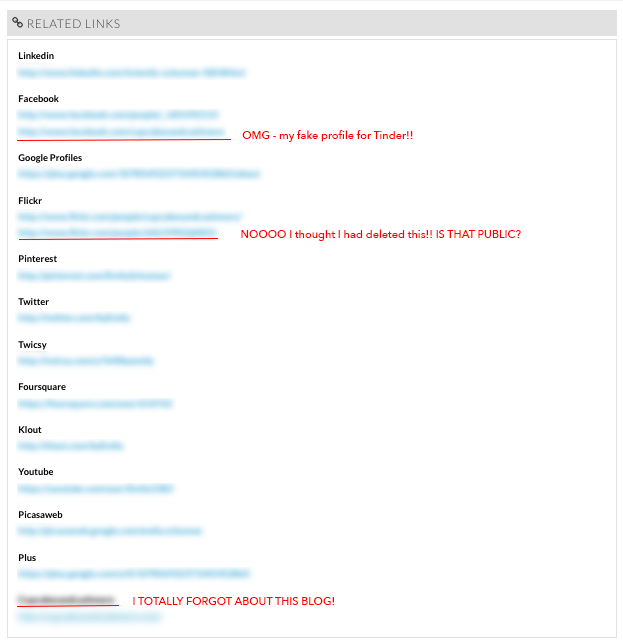 Scammers usually create separate social media accounts to secretly use online dating. The TruthFinder report may find some personal data.
You can even see links to their profile on websites such as MeetMe or Twitter. For example, that person MeetMe Is your profile up to date? Did you meet a lady on that secret Facebook account? The truth is done with one click!
Or, I have used a social network or blog before to post some untimely information. However, over time, I forgot all this. Use TruthFinder to look up relevant information about yourself, otherwise, you don't know when someone else accidentally discovered it. Not only is it extremely embarrassing, but you may also be very passive in many things.
In addition, you have to understand:A liar is a liar, They will not only cheat once, but always cheat others.
You can also use this part of the function to find someone's potential Amazon account and Amazon wishlist, see what he/she is interested in, and give gifts to do what they like.
contact information
TruthFinder can help reconnect with lost loved ones. Such reports may include:
phone number
Type (mobile phone or landline)
Prepaid (e.g.,burner phone)
Connected or disconnected line
email address
Fraudsters basically use secret email addresses to sign up for online dating sites. If you find an email account that you have never heard of before, then be more vigilant. In addition, scammers also use secret phones to communicate with each other! You can use this tool to unearth their secrets.
Location record
By looking at the location history, you can know where someone lives. Do you want to see where the old classmates from years ago ended up? Then take a look at this TruthFinder location report including:
Location history map
Known address history
Click on View Location Report Button to access the census database.
Search for yourself in Truthfinder (if you are in the US),See what information is exposed to the public
Criminal record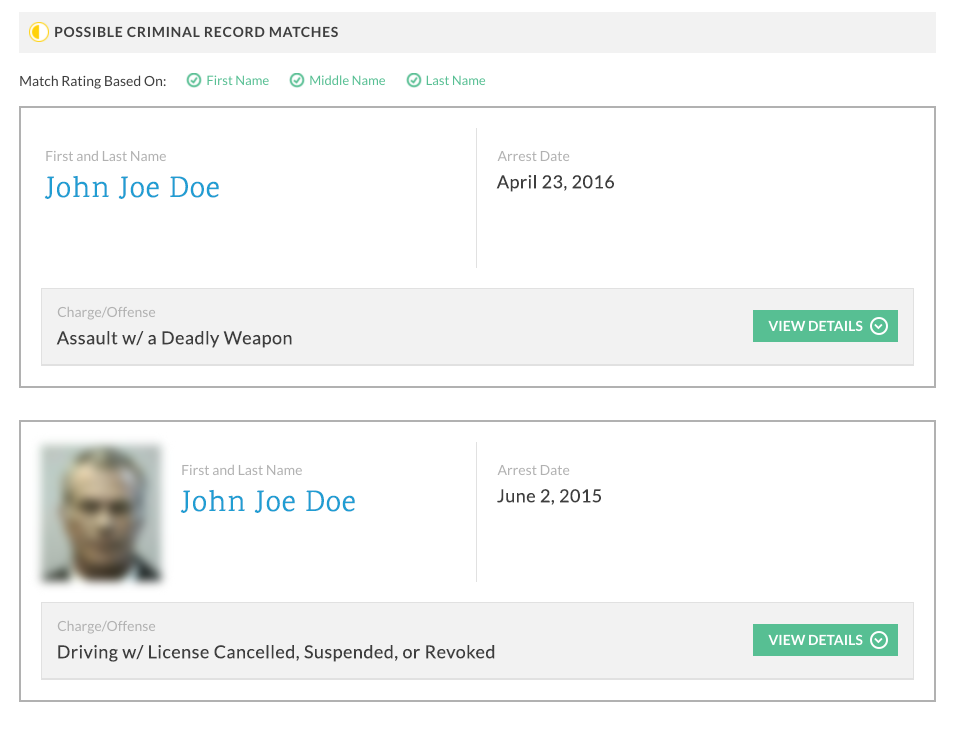 TruthFinder can access a database of criminal records, which can quickly reveal a person's past crimes, or view criminal charges against that person.
If the person around disappears mysteriously, then the person may have gone to jail. Through TruthFinder, you can find detailed information about the person's case, sentence, and prison. An example of someone is as follows:
TruthFinder criminal records include:
First name and last name
Date of crime
Place
age
date of birth
State
gender
Crime description
Case type
Judgment end date
Judgment statement
Date of imprisonment
Maximum sentence
Arrest classification
Crime (when arrested)
Prison and parole details
Date of imprisonment
Current prison situation
Prison location
Find youFavorite American celebritiesSee what criminal records they have!
Sex offender information
Do you want to know if there is a sex offender near your home? Just search your own name to find any sex offenders living near you. You can even dig out their personal information and what they are accused of.
TruthFinder can also provide facial photos of sex offenders, examples are as follows:

Social profile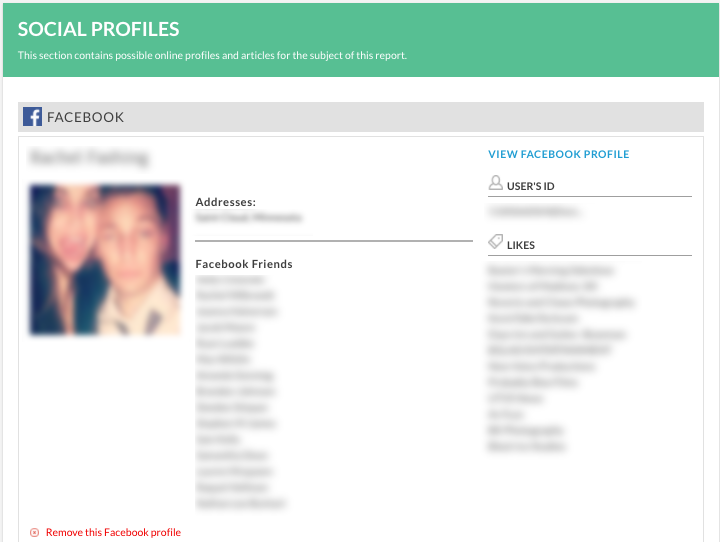 What people post on social media largely reflects their personality. TruthFinder digs deep into social networks to reveal accounts related to:
Facebook
Twitter
Linkedin
Pinterest
Google Plus
……
Compared with the general Facebook profile, Twitter trolling and Pinterest porn may have a deeper understanding of the personality of the surveyed person.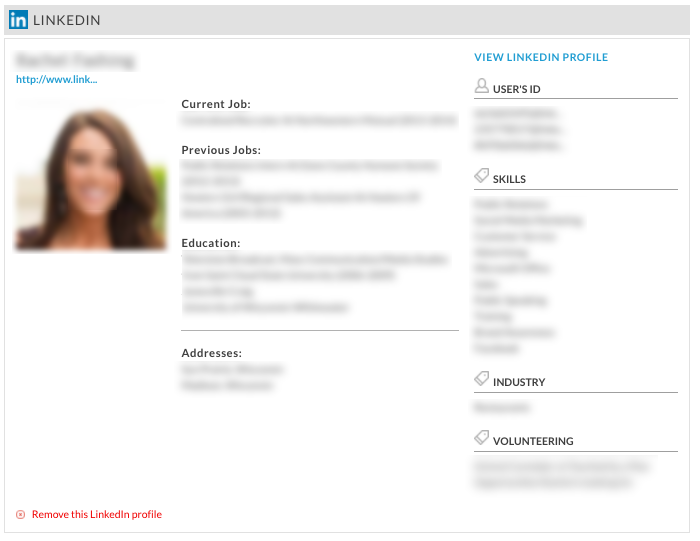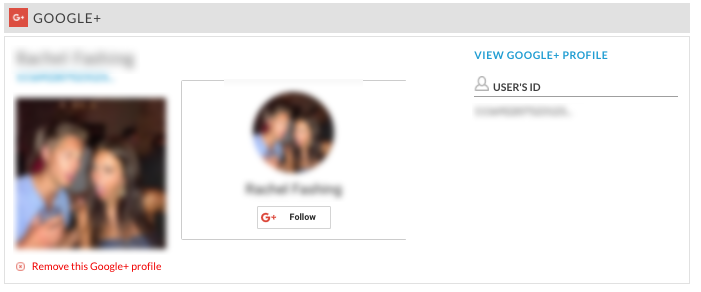 Of course, if you are investigating a mysterious man or woman, if they are not careful about their profile photos, Facebook may be the first person to reveal the truth.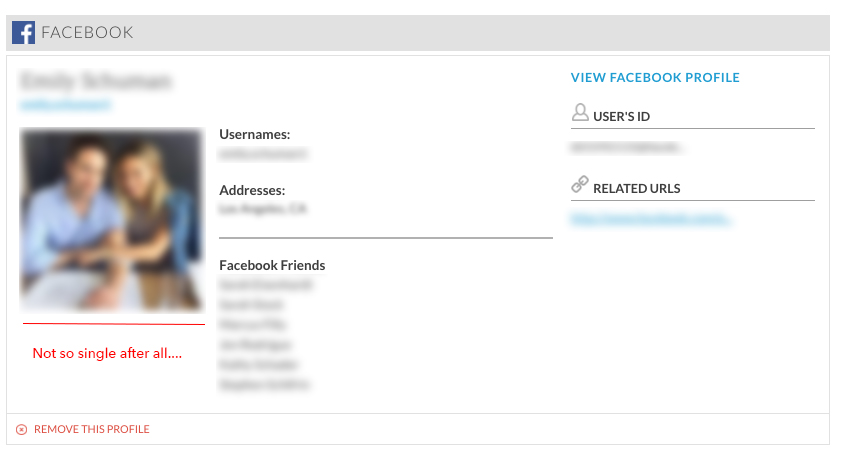 Search for yourself in Truthfinder (if you are in the US),See what information is exposed to the public
Additional information provided in the TruthFinder report
Below is some additional information included in the TruthFinder report.
Possible relationship
Possible colleague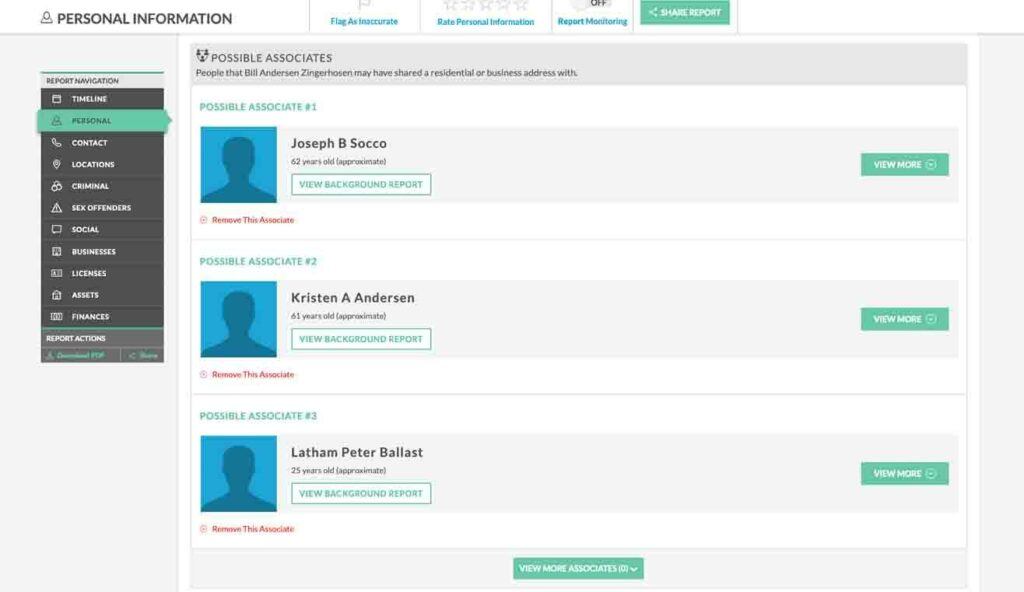 Neighbor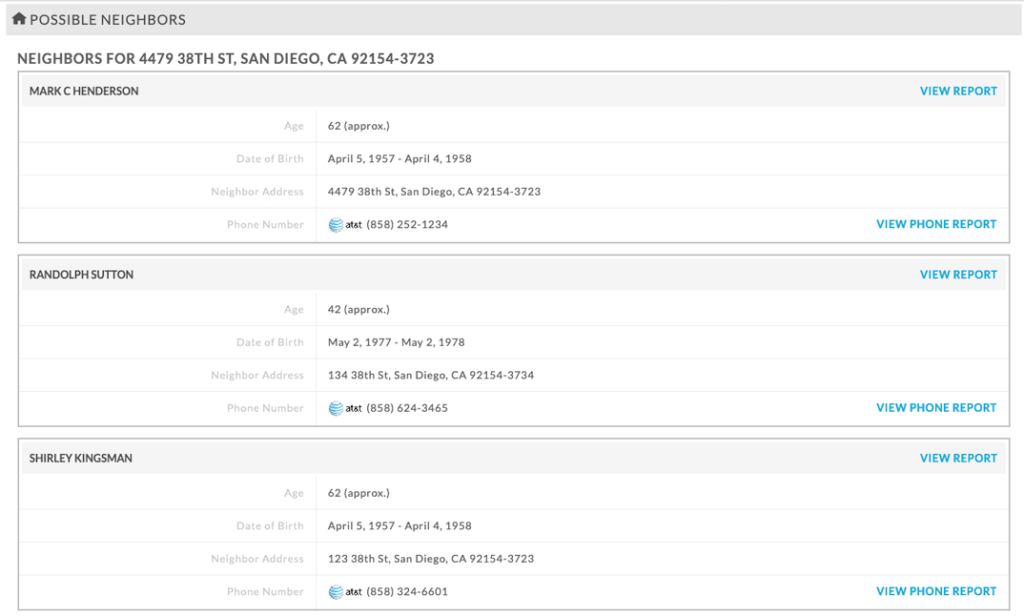 The report will also provide a complete list of possible neighbors with contact information. Include:
name
date of birth
address
phone number
Search for yourself in Truthfinder (if you are in the US),See what information is exposed to the public
Business affiliation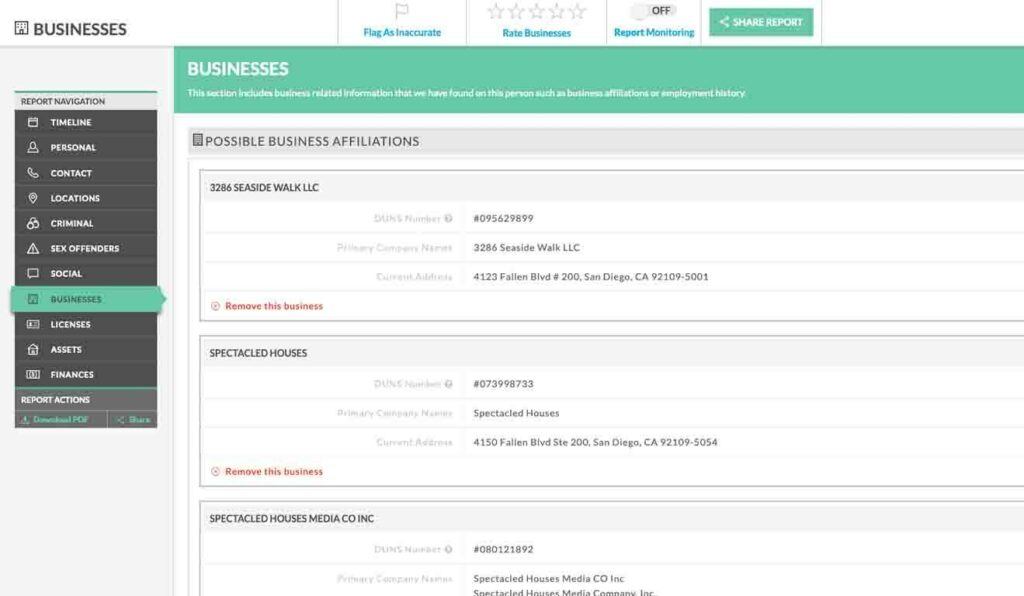 Is it a real businessman or a liar all the time? Continue to dig:
Is there any other business name
DUNS code
Business address history
Company filing
The following information may be provided in the company's filing report:
business type
Business name type
Mailing address
record number
DUNS number
Registration Type
Verification date
Date of establishment
Filing office address
File date
SIC number
Business contact
…….
license
The report may contain various licenses, including:
Professional license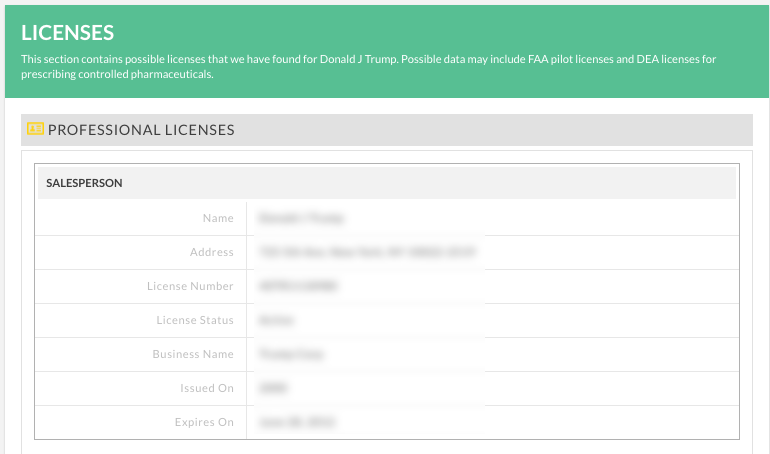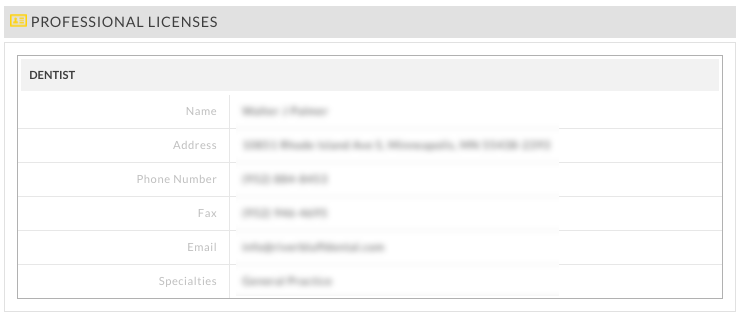 Hunting license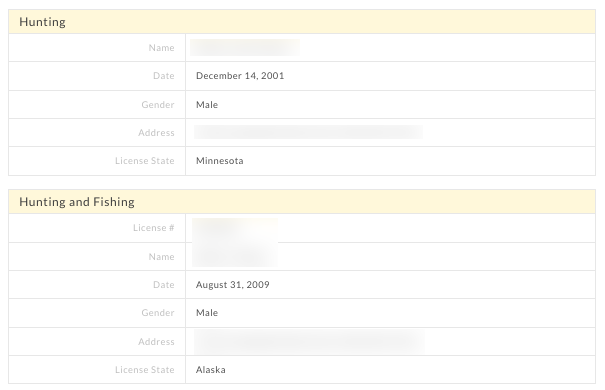 FAA pilot license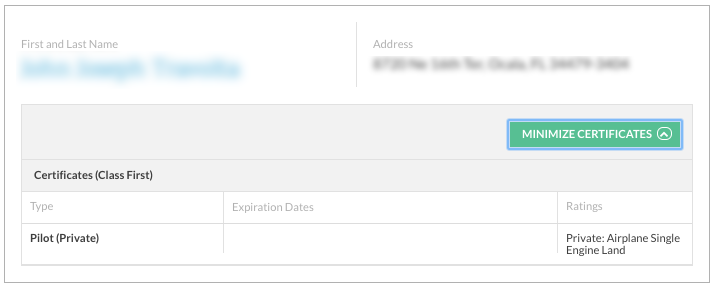 DEA license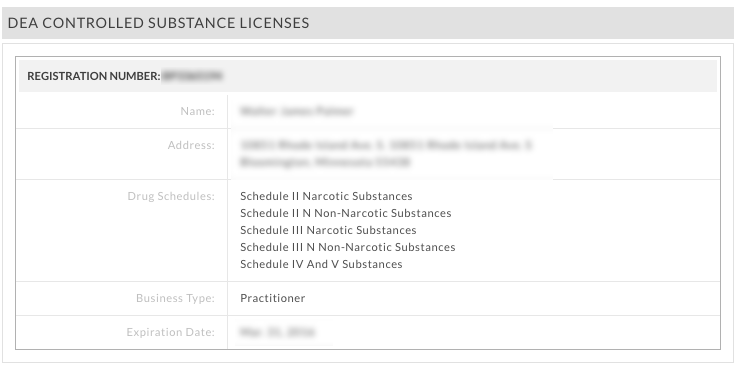 Hidden weapons license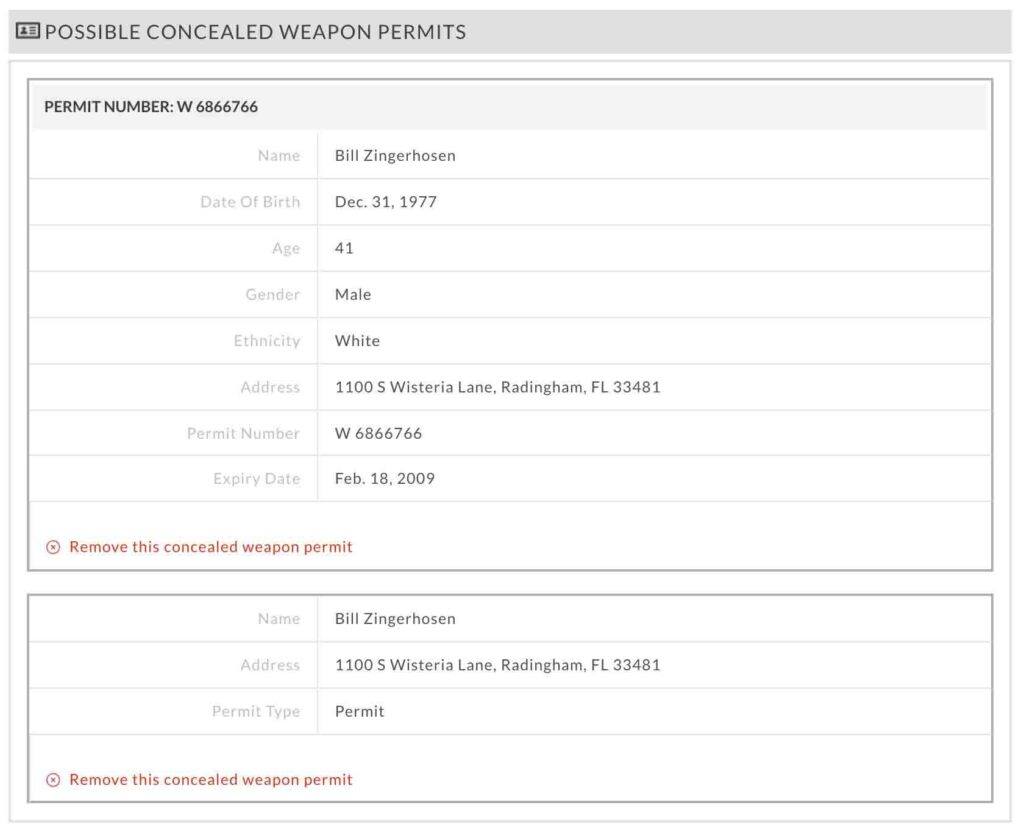 assets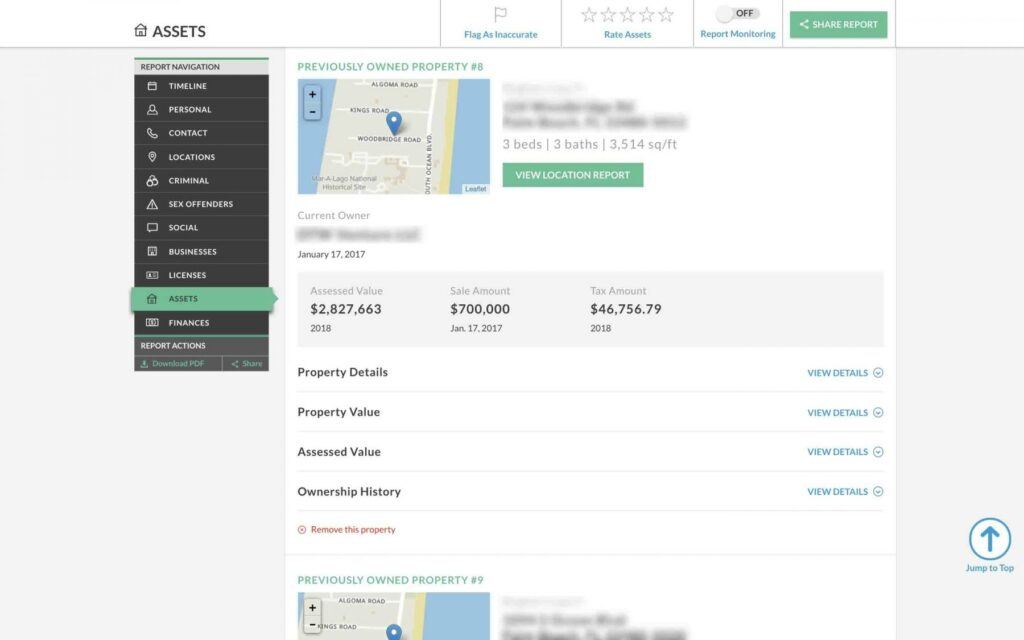 During the divorce, did the couple conceal their property?
Owned property
The property asset report may include:
APN
Subdivision name
Municipality name
Municipality code
Land value
total value
The assessed value
tax
Type of property
Land area
Tax number area
Fair market land value
Property value assessed over time
……
Search for yourself in Truthfinder (if you are in the US),See what information is exposed to the public
Bankrupt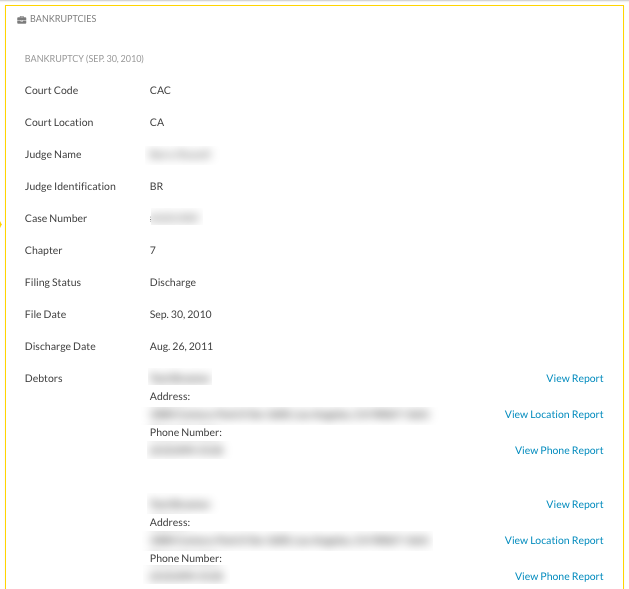 The bankruptcy report may include the following details:
Case number
chapter
expiration date
Filing type
Apply for jurisdiction
category
Bankruptcy chapter
court
Court code
Court location
Referee name
Referee status
application status
Dispose of
Unsecured assets
Meeting date
meeting time
Meeting address
debtor
Debtor address
Debtor phone number
lawyer
Agent address
Lawyer phone
trustee
Trustee address
Trustee phone
……
lien
Reverse phone lookup
Want to know who called or texted you just now?Log inThen find the reverse phone lookup function, and then enter any phone number.
After entering the phone number, TruthFinder may display the following information.
personal information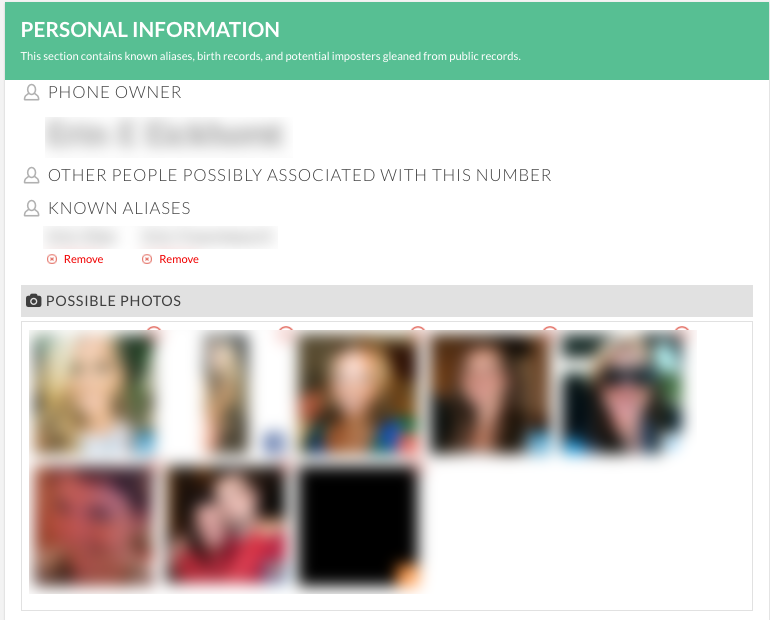 Personal information may include:
The name of the phone owner
Other people related to the number
Known alias
Possible photos
Work and education
Related Links
Introduction to Social Media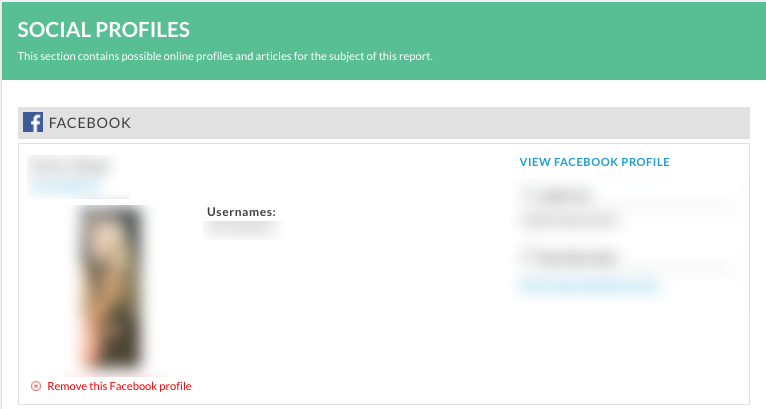 Of course, you can also find the completeness of anyone you find through a reverse phone callBackground report.
Reverse email lookup
Email address lookup has the same function as reverse phone lookup. You can find:
real name
Known alias
contact information
Location record
educate
Related Links
Social profile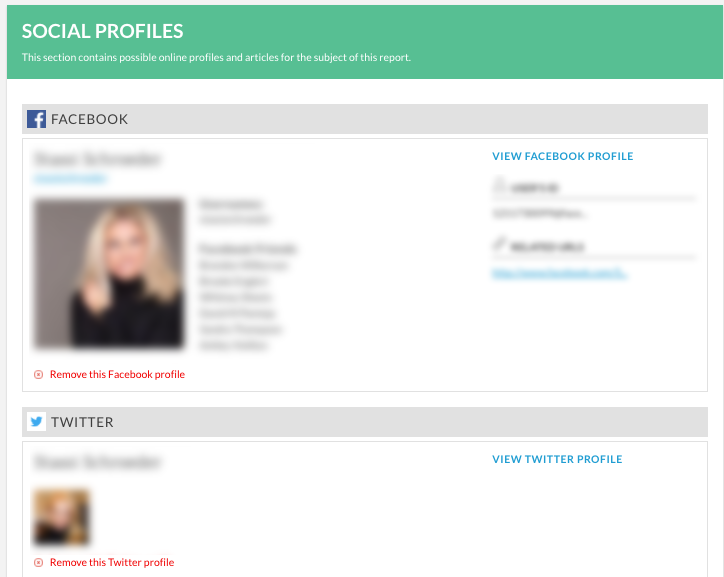 Reverse address lookup
I am moving. Do you want to check what information is around the new house? Just enter the address of the house, you can get the following information:
Possible residents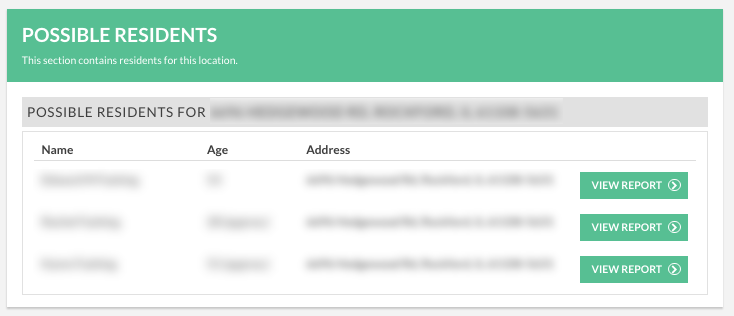 Neighbor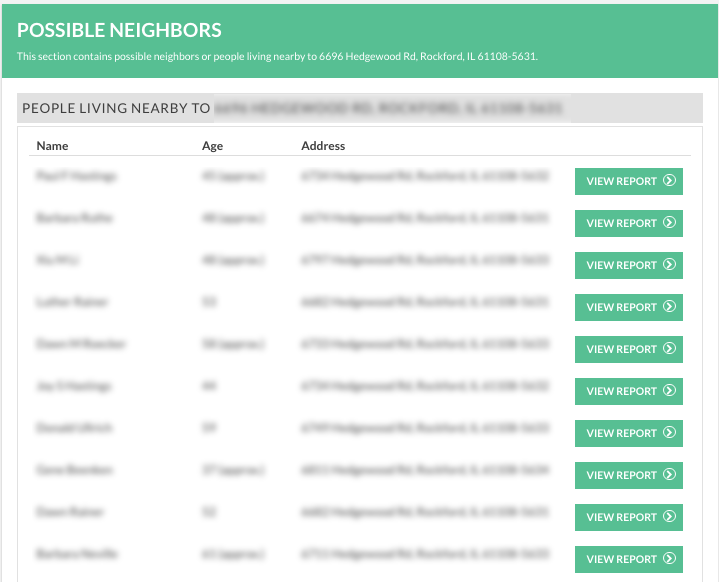 Location details
Almost all real estate information in the United States can be learned through truthfinder. The standard location details report may include the following data:
Complete address
latitude
longitude
area
Time zone
UTC offset
Daylight saving time information
Location type
Location purpose
Whether the address can be delivered
Whether the address can receive mail
Congressional district
Congressional land area
altitude
Financial number
Land area
Location map
Census data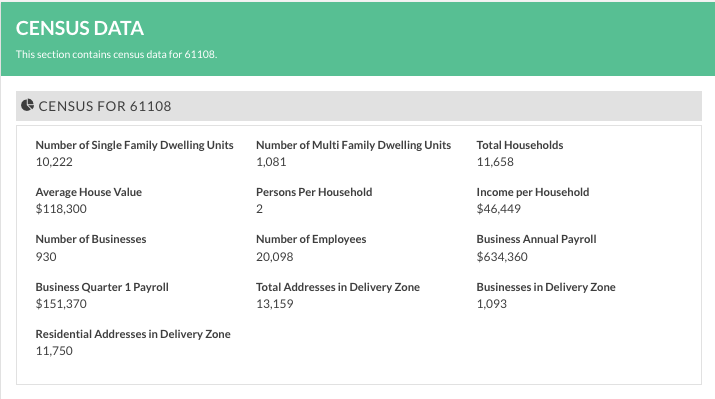 Census data may include:
Number of single-family houses
Number of multi-family housing units
Total number of households
Average home value
Number per household
Income per household
Number of companies
Number of employees
Enterprise annual salary
Total number of addresses in the delivery area
Distribution area enterprise
Residential address in delivery area
CBSA data
MSA data
Search for yourself in Truthfinder (if you are in the US),See what information is exposed to the public
Demographic data
Truthfinder also provides various statistics on the population of the United States. Knowing these data will bring convenience to your life. For example, look at which area/community has less stress in life. If you are interested in food and churches, then maybe you also want your neighbors to do the same.
Demographic data is the best helper to learn more about the community.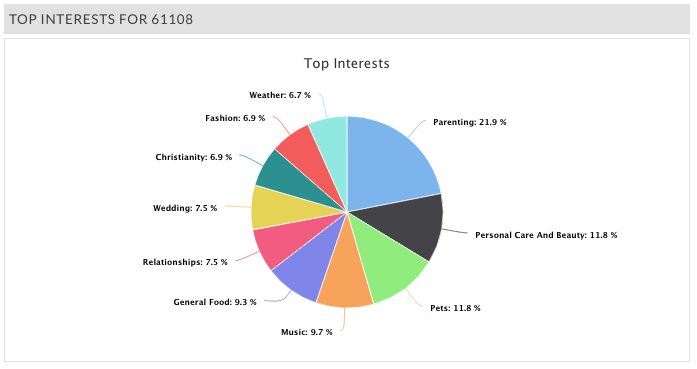 Popular locations
Explore popular places loved by locals and learn more about potential new communities. This is also a great way to find the perfect date spot!
Popular restaurants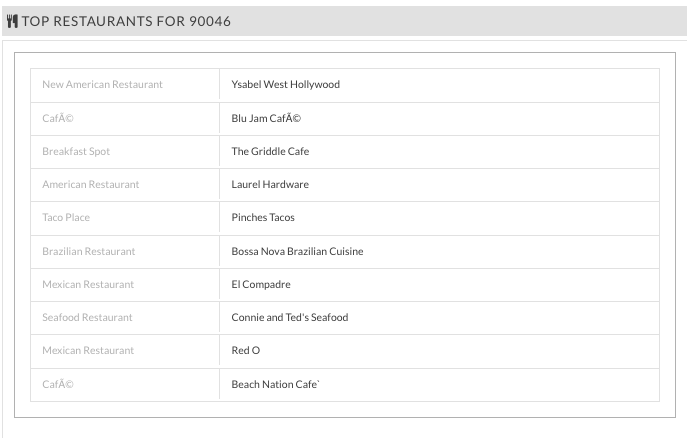 Learn about places frequented by locals and discover a variety of cuisines. Next time you travel out of town, look for your hotel to find popular attractions near you!
Top entertainment venue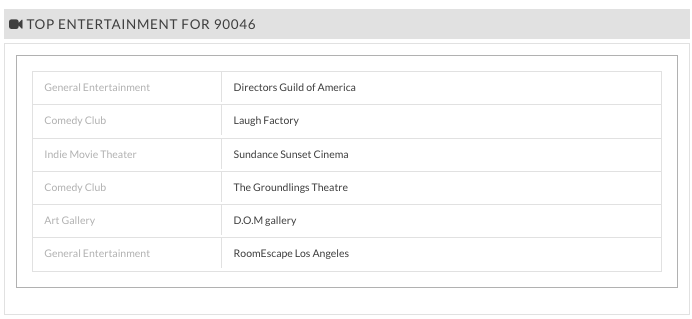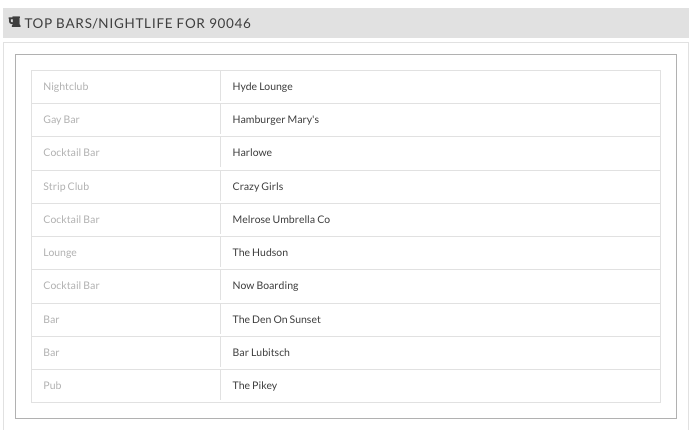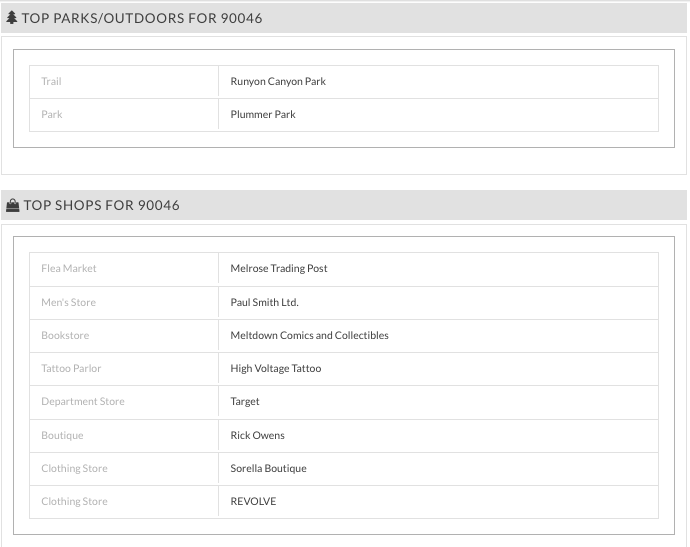 Search for yourself in Truthfinder (if you are in the US),See what information is exposed to the public
FBI Crime Statistics
No one wants to move to an area where crime is rampant. You can use TruthFinder reverse address lookup to check the security near you!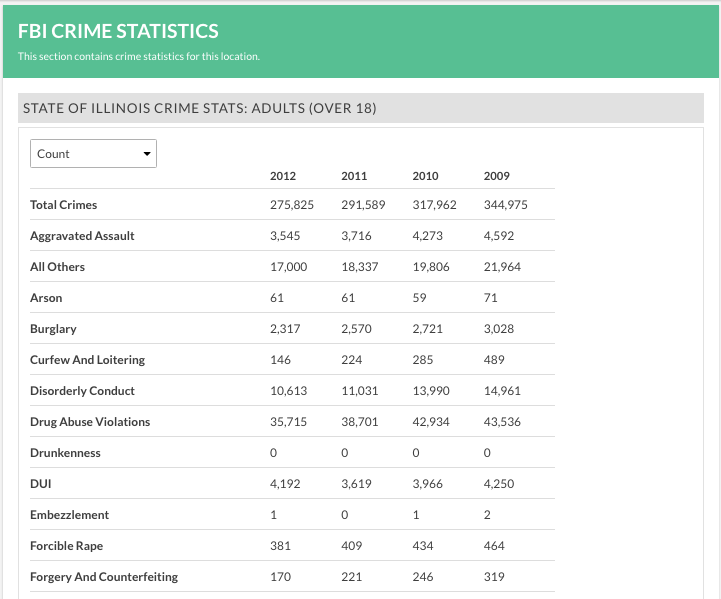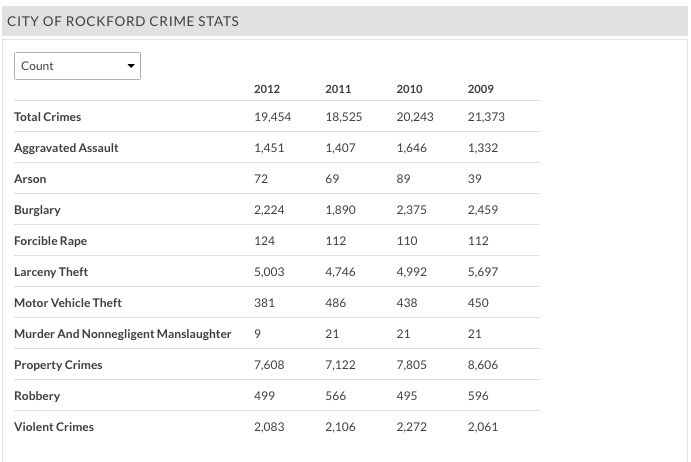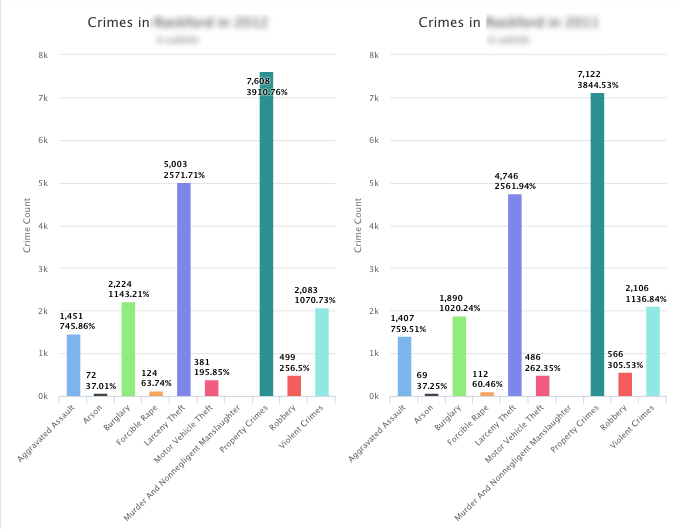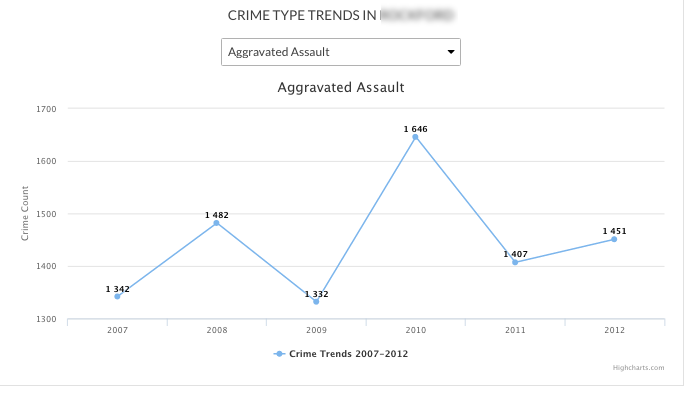 Several cases of using TruthFinder
Looking for potential dates or crushes
If you are a child studying in the United States and want to find a lover through a dating site, it is best to use TruthFinder to investigate each other's situation before signing up for an online dating service. For example, according to the survey, as many as 50% online daters are actually in love. It is also possible that through a simple search, the other party is actually a liar wandering around!
Or, you may discover the other party's criminal record, financial problems, weird photos on social media, or dirty history. TruthFinder allows you to avoid the danger of communication.
Looking for separated family members
Some people use TruthFinder to find their biological parents or separated family members.
Search for celebrities or public figures
If you are interested in all kinds of celebrity gossip information, such as Justin Bieber's criminal record, or the email address of your favorite celebrity, truthfinder can do it.
Study the neighbors next door
How much do you really know about your neighbors? If they look a little suspicious, it's best to investigate. Find criminal records, past arrests, and even traffic violations on TruthFinder.
Manage your own online reputation
Are you hiding an embarrassing secret from your past? Do you have any forgotten social media profiles or long-lost blogs? Search for yourself and see what other people can know about you!
Check criminal record
One of the main motivations for using TruthFinder is to find criminal records. If someone in your life hides a dangerous secret, don't you want to know it?
Search for yourself in Truthfinder (if you are in the US),See what information is exposed to the public