SnapchatPublic informationYou can show your creativity and help fans find themselves on Snapchat. Read this article to learn how to edit public materials, and to answer questions such as assigning and managing roles, using insights, story answers, and citations.
Edit Snapchat Public Profile (Public Profile)
Edit your own Public Profile, add profile, photos, and other public information you want fans to see.
Edit Public ProfileMethods as below:
Click the Bitmoji or Story icon at the top to enterMy Profileinterface
Under Profile Management, clickPublic Profilecard
Click onEdit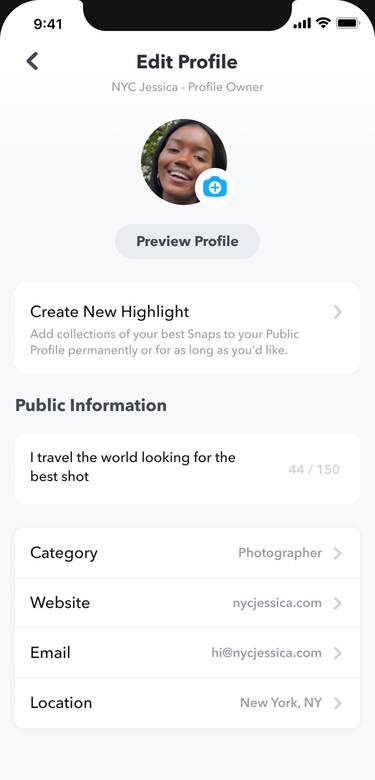 How to assign and manage roles in Snapchat (Role)
Assign roles to trusted Snapchatters to help manage your own Public Profile; also assignRoleAssign to as many Snapchatters as possible.
When assigning roles, pay attentionusernameTo be correct.
Role AssignmentsMethods as below:
Click ⚙️, and then open in My ProfileSettings
Click onManage Roles
Click onAssign New Role
Enter the Snapchatter username and select the role
You will be notified when a new role is added. If it is not a friend of the Snapchatter, then the person needs to accept the "role" request in its "Settings".
You and the admin can delete roles at any time, or you can delete roles in the Public Profile.
If you need to change the role, click in the settingsManage Roles
Types of roles and permissions
Different types of roles can be assigned to Snapchatters. Different roles have different types of permissions, as well as access permissions to public materials.
For example, a character with a snapshot addition function can see the option of Public Story on the Send To screen.
Let's learn about different types of roles and their functions.
Profile manager(Profile Admin)
The Admin administrator can manage public materials, add or delete any snapshots from public stories, assign roles, and view insights. Administrators cannot delete access to their own public information.
Profile collaborator(Profile Collaborator)
Personal profile collaborators can view account data analysis and can add or delete any snapshots from the public story.
Story contributor(Story Contributor)
The story provider can view all past snapshots, as well as add, delete, and view insights on the snapshots.
Insight Viewer(Insights Viewer)
The insight viewer can view your own insights.
Snapchat insights and activities
Click onInsightsTags, learn more about the audience and how they interact with their content, and various other information.
Recent stories and 28-day summary
existRecentIn each story title, coverage (unique viewers) and number of snapshots are displayed. Click on the story title to view snapshots, scope, screenshots, and interactions. In addition, check the "28-day summary" for the latest trends.
Notice: Advanced statistics are only applicable to new snapshots released from the current day, and can be deleted at any time.
Story insights
Click onSee MoreTo learn more about this. In Insights, click on the statistics to view the graph of participation over 7 days or 28 days.
In the story, all past snapshots are grouped in a 24-hour window, and can be filtered by indicators (coverage, story view, story view percentage, and average viewing time) to compare past stories.
Target Audience
Check how many subscribers you have and find out the gender breakdown, popular locations, and popular interests of the story's audience over the past 28 days.
Click onSee More, Further through the Snapchat lifestyle category, understand the interest of the target audience, you can also compare by age, gender, category and location.
Activity
Through the Activity tab, track the publishing activities of all roles that have been assigned to "Public Profile".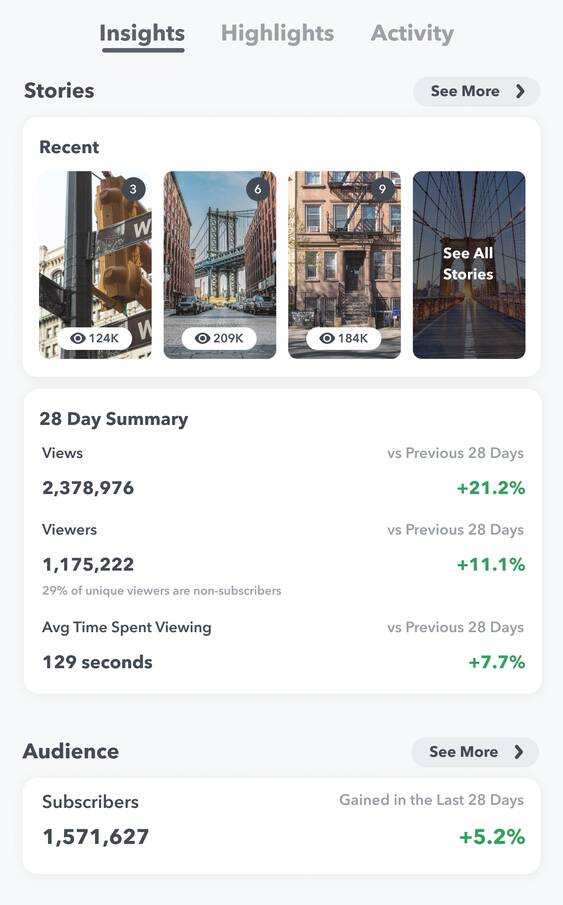 How to create highlights on Snapchat (Highlights)
Through Highlights, you can permanently display your favorite public snapshots, photos, and collections on the Public Profile.
How to add Highlights:
Click profile under Profile Management, and then enterHighlights
Click onCreate New Highlight
Click the "+" button to add new content to Highlight, and then clickImport
View and edit Highlight
Select the title and cover photo, then clickFinishPut Highlight in the public profile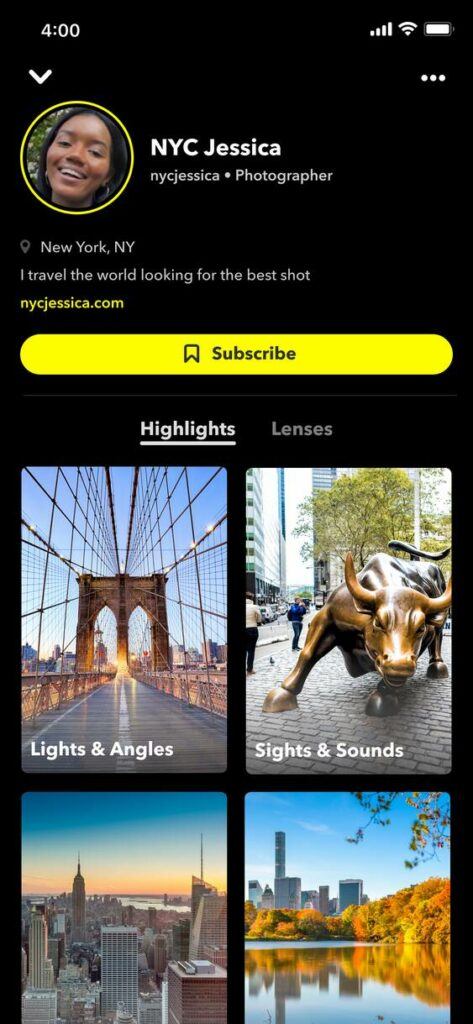 When submitting snaps to Spotlight, you can also download fromSend To screenAdded to Highlights. This feature is enabled by default, or you can choose to turn it off. 
After highlight is added, Spotlight snapshots can be updated or deleted at any time.
Add a lens (Lens) to your Snapchat profile
pass throughLens StudioUploadLens, After the lens is activated, it will be automatically added to the "Public Profile"Lens"Tab. 
Snapchat story reply and quote
Use Replies and Quoting to have meaningful conversations around the published story.
View Story Repliesmethod:
Click onPublic Story
Swipe up to view insights and responses
Click onreplyView the complete message and reply
Swipe down to view full screen snapshot
QuotingIt is a fan tool. Its function is to make it easier for shared subscribers to reply to public stories. Using this tool allows subscribers to reply and interact with themselves.
You can even mix things up and ask them questions, and when you quote fans, they will also be notified.
Reply with quote
Click on Quote button (Reply to the right), share the story
The reply will be overlaid on the "Camera" screen as a sticker.fastShare your reaction or response. 
Can be on the screenDrag or resize the label,To edit snap
When ready to add to the public story,Click on the bottom right cornerPress the send buttonButton
You can select the ones you don't want to see in the "Profile Settings"Mute specific words or phrases.
The mute method is as follows:
Tap ⚙️ in the upper right corner of the Public Profile Management page
Tap Edit Muted Words
Click onAdd Muted WordsTo include moreword, Or click " x "To delete the existingword