Using a one-time email address service can effectively avoid/eliminate spam and protect your identity.
What is a one-time temporary email and why is it needed
One-time e-mail is a free e-mail service that can self-destruct e-mails received at a temporary address after a period of time. According to the name, it is called: temporary mail, 10 minute mail, one-time email, fake mail, fake email generator, burned mail or spam, etc.
Because many forums, Wi-Fi owners, websites, and blogs require visitors to register before they can view content, post comments, or download content.
Best one-time (temporary) email address
10minutemail is a secure temporary email service. You can register a temporary email address to send and receive emails to anyone. The email and address will self-destruct within 10 minutes (you can click refresh Button to extend or reset the timer), so you don't have to worry about spam or similar issues. 10minutemail is easy to use and more reliable in terms of privacy.
Pros
Streamlined and easy to use
Dedicated temporary email address
Cons
Very basic
Cannot recover deleted email address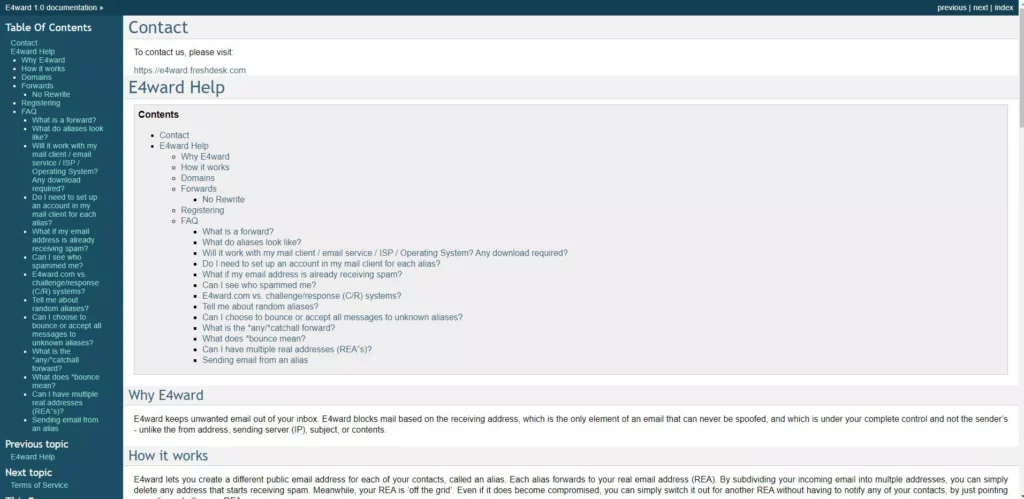 E4ward.com is a practical one-time e-mail service that uses easy-to-erasable aliases to prevent spam from being sent to real e-mail addresses.
Using this service, you can create public e-mail addresses, or aliases, for all contacts. Each alias will be forwarded to your real email address. If one of the aliases starts sending spam, delete it and assign the new alias to the account. 
E4ward uses domain namesusername.e4ward.com, But if you havePurchased a domain name, You can use your own domain name.
Pros
Allow the use of your own domain name.
Identify spammers by using different aliases for contacts.
Multiple real addresses are allowed.
Cons
The registration process is slow.
Adding a personal domain name can cause confusion.
The free version only allows one alias to be used.
Spamgourmet is a feature-rich and flexible one-time e-mail service provider. First, set up an account and list the email addresses you want to protect. Then, choose to forward the Spamgourmet address to a protected email address.
Next time you need to provide your email address to a stranger or one-time merchant, please use the Spamgourmet address instead. You will receive any mail or reply in a protected email address.
Pros
Short learning curve.
The specified email limit.
Advanced mode of trusted sender and slogan.
Cons
Some merchants do not accept orders from Spamgourmet addresses.
Account registration is required.
Mailinator allows to use any email address on mailinator.com and retrieve mail on its site. Since it is not connected to a real address, the Mailinator address will not be used to obtain spam, and all mail sent to Mailinator is in the public domain name.
Mailinator provides millions of inboxes. Unlike other email services, Mailinator can be used without registration, and emails are automatically deleted after a few hours.
You cannot send mail from Mailinator, this is only a mail receiving service.
Pros
Unlimited number of email addresses.
No registration required.
Will not connect to a real email address.
Cons
Mailinator emails are public.
The email is temporary and disappears after a few hours.
Not safe.
As a one-time email address service, GishPuppy is simple and practical. It will automatically forward mail to a private email account, and it will encourage you to delete GishPuppy emails. 
Never reveal your private email address to strangers again, just provide your GishPuppy address.
Pros
Use a different email address each time you sign up.
Send the message to a real email address.
Set the alias to expire automatically.
Cons
The "Gish it" link must be dragged to the browser toolbar.
Custom domain names are not supported.
The real address will not be protected in the reply.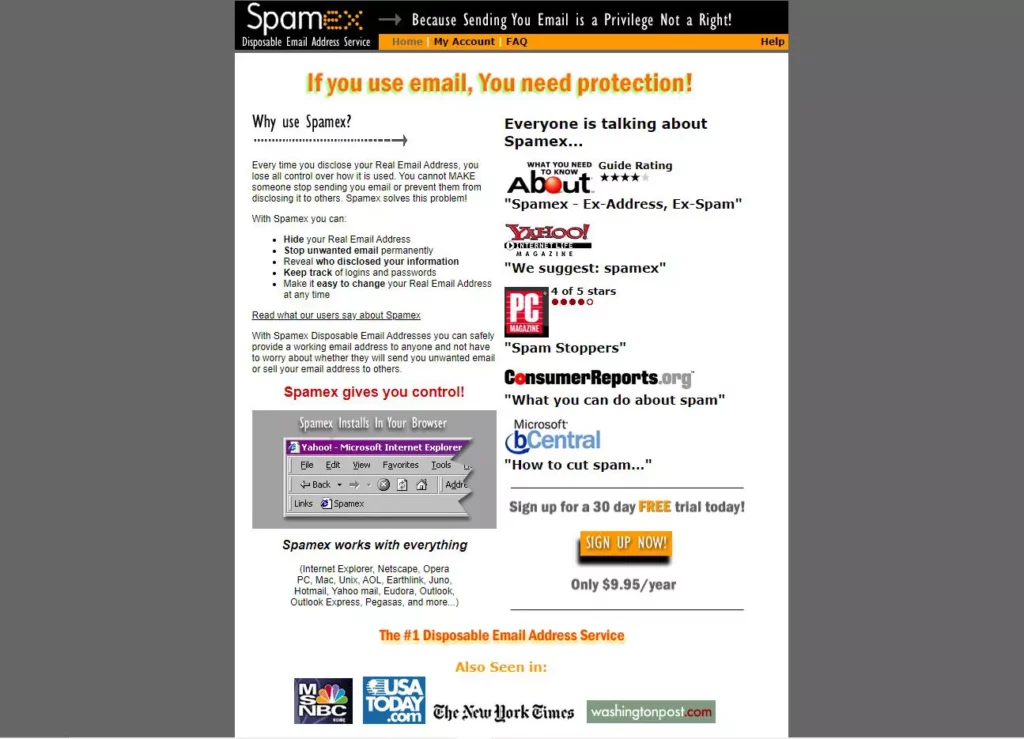 Spamex provides a reliable, useful and fully functional one-time e-mail address service. Using Spamex disposable email addresses, you can provide a valid email address to anyone without worrying about selling your email address to others. If you receive spam, you know its source and you can dispose of the email address or close it.
Spamex is browser-based and works well on most operating systems, and it is also suitable for mobile devices.
Pros
Suitable for most platforms.
Contains up to 500 addresses.
30-day free trial.
Cons
The small scale makes it difficult to use accessories.
After the free trial, there is an annual fee.
Support is limited.
TempMail is also another reliable one-time e-mail service. It does not require you to provide any personal details, nor does it require an account to be registered. In terms of security, temporary emails only store emails for about 2 hours, and delete any and all personal details (such as your IP address) after you use the service. You can download Temp-mail from the App and Play Store, and use the service on Chrome, Safari and Firefox browsers.
Pros
No need to register and provide personal information
Cons
Can only exist for two hours.
If two people choose the same email alias, they will both receive the same email.
If someone else gets your alias and domain name, it may be hacked.
In Mailinator, you can use any alias you want to receive emails. This one-time e-mail service is in the public domain, and the mail is public. The alias you choose can also be used by anyone else. The email you receive will be deleted on its own after a few hours. The premium plan will get your own personal alias, which other people cannot access.
When we want to create a temporary email to avoid unwanted messages in our real email inbox,MailinatorIt is a very useful service. An important thing to consider when using Mailnator is that all emails and inboxes are in the public domain. This means that if they enter the correct inbox, anyone can read and delete them. Therefore, there is no privacy in the public system and it is mainly suitable for occasional personal use.
We do not need to register to use the public system. We can use the email address we provide, or we can create a new email address by pressing "GO". We can enter any name (up to 50 characters) to create a new email. 
It should also be noted that all emails in Mailinator will be automatically deleted after a few hours and cannot be recovered. In addition, Mailinator's public mail has certain rules, such as mails cannot contain attachments (if there are attachments, they will not be sent or will be deleted), and emails cannot be sent from Mailinator.