For ordinary anonymous email, strong encryption is not enough, because the email service provider can still record your name,track your IP and location, you can view email subject and recipients. Therefore, the best anonymous email service providers do not collect user data.
What is an anonymous mailbox
anonymous mailboxRefers to the ability to send emails where the sender's address and personally identifiable information cannot be viewed by the recipient.
A truly anonymous mailbox hides your true identity, including sender name, to IP address, and metadata, and there is no way to trace the sender from anonymous email.
In other words, an anonymous mailbox is an email that hides the sender's identity, does not contain any personally identifiable information, and cannot be traced back to the sender.
Anonymous email services encrypt your messages so no one can see their contents, even if they are intercepted in transit. Your email address, message time, device name, and even IP address are hidden from recipients.
Therefore, anonymous mailboxes are very safe.
Are anonymous emails really untraceable?
No one can guarantee that 100% will not be tracked, but using an anonymous email account significantly improves privacy. This anonymous mail service keeps your address anonymous and encrypts your connection. Additionally, multiple profiles can be created using the alias system to protect your identity.
Also, useStrong password protection, never click on suspicious links, and use VPN to protect the Internet. Establishing common sense and awareness of safety can make your traces more difficult to track.
Guidelines for choosing an anonymous email account
reliability.
Whether the service provider collects data.
jurisdiction.
Ensure that the provider's jurisdiction is not legally required to pass user data to government agencies.
encryption.
make sure to haveEnd-to-end encryption, and encrypt emails in transit.
Additional features.
Check if the service has additional features such as file storage, contact lists,calendar, collaboration tools, or other features.
best anonymous email
ProtonMail is a free, open source, encrypted email provider based in Switzerland with end-to-end encryption and a completely free secure anonymous mailbox. Of course, if you chooseprotonmail premium plan, will get more features.
Without the password, Internet service providers, ProtonMail employees, and even the government could unable to decrypt ProtonMail message.
ProtonMail is very safe. If you forget your password, you cannot recover your email. Decryption occurs during login, which means that the email cannot be decrypted without a password or no record of the recovery account.
ProtonMail does not retain customer IP address information. With no-log email services like ProtonMail, there is no way to trace the email back to the sender.
The free version of ProtonMail supports 500 MB of email storage, with usage capped at 150 messages per day.
Purchase Plus or Visionary for more email storage, email aliases, priority support, labels, custom filtering options, auto-responders, built-in VPN protection, and the ability to send more emails every day.
Pros
Two-factor authentication.
You can send password-protected emails to anyone.
Import the CSV contact list.
Cons
The default signature of the free account cannot be changed.
Search capabilities are limited.
How to Sign Up for ProtonMail Free Mailbox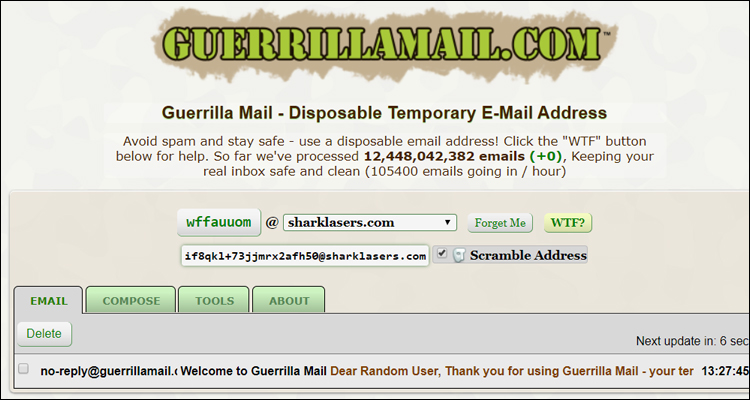 Guerilla Mail is another great encrypted email provider that has been around for over a decade, providing users with free and disposable email addresses that can be used to send and receive anonymous emails. It is also possible to create your own email address or use their "scramble address" feature to create a random address.
No personal data is required to create an account, but if you're still concerned about being traced back to you, Guerilla Mail allows anonymous messages to be sent without an email account. Another great feature is automatic timed messages.
Pros
Free to use
No registration required
Send unlimited one-time emails
Cons
Emails sent using the app are often caught by spam blockers
If you are very worried about the privacy of emails, CounterMail can provide a secure implantation of OpenPGP encrypted emails in your browser. Only encrypted emails can be stored on the CounterMail server.
In addition, the server (based in Sweden) does not store emails on the hard drive. All data is stored in CD-ROM only . This method helps prevent data leakage. If someone tries to tamper with the server directly, the data is likely to be lost.
Using CounterMail, you can also set up a USB drive to further encrypt emails. The decryption key is stored on the device and also needs to be logged into the account. Therefore, even if a hacker steals the password, decryption is impossible.
Due to the increased physical security of USB devices, CounterMail is not so simple and convenient to use compared to other secure email services, but it does get IMAP and SMTP access, and it can be used with any OpenPGP-enabled email program. For example, K-9 Mail for Android.
Try CounterMail free for 7 days with 100 MB of space.
Pros
Support IMAP.
Does not keep IP address logs.
Built-in password manager.
Cons
Unable to send encrypted emails to non-users.
Limited storage space.
A one-week free trial period.
Hushmail is an encrypted e-mail service, founded in 1999, using the most advanced encryption methods to ensure the security of e-mails and locking Hushmail can not read your messages; only those who have a password can do this.
Using this service, encrypted emails can be sent to Hushmail users and non-users who have Gmail, Outlook Mail or other similar email client accounts.
The web version of Hushmail is easy to use, with a stylish interface and can send and receive encrypted messages from any computer.
You can choose from multiple domains in the address to create a new Hushmail account, such as @ hushmail.com, @ hushmail.me, @ hush.com, @ hush.ai and @ mac.hush.com.
There are two types of Hushmail registered accounts: personal and corporate, but they are not free.
Pros
Support IMAP and POP.
Two-step verification.
Import contacts from CSV file.
Spam filter and auto responder.
10 GB of storage space.
Cons
There is no free trial.
Only available on iOS.
AnonAddy is a transparent and open source email forwarding service that encrypts emails and doesn't track you, and it doesn't use ad targeting.
AnonAddy protects privacy by allowing multiple emails to be hosted using an alias system. It also has a ton of useful features, including protecting email addresses from spam by deactivating aliases, and identifying who sold your data by using a different email address for each site.
AnonAddy also protects users from cross-referencing, which could reveal identities in the event of a data breach. You can also reply to emails without revealing your real address.
Pros
Available on all operating systems and platforms
Free plan available
Paid plans ($1 per month) are competitively priced compared to alternatives
Easy to use, clean interface but with advanced features for power users
PGP encryption support to protect your email
Sent from relay email address (this keeps real emails private)
Cons
Email sending will stop if the quota for Free and Lite plans is exceeded
Mailfence is a security-centric e-mail service with end-to-end encryption to ensure that no one but you or the intended recipient can read the mail. The service includes an email address and a web interface encrypted by the OpenPGP public key.
This OpenPGP standardization means that Mailfence can be accessed through the email program of your choice using IMAP and SMTP with a secure SSL/TLS connection. You cannot use Mailfence to send encrypted emails to users who do not use OpenPGP and do not have a public key available.
A free Mailfence account can provide 500 MB of storage, while a paid account can provide enough space and you can use your own domain name as a Mailfence email address.
Mailfence's software is not open source, so the security and privacy are low, so it cannot be checked.
Mailfence's private encryption key is stored on the Mailfence server. This key cannot be read because the key is encrypted with your passphrase (via AES-256), and the service is not allowed to decrypt using your key The root key of encrypted mail.
Mailfence uses servers in Belgium, so only through a Belgian court order can the company be forced to leak private data.
Pros
The digital email signature proves the author's identity.
Support two-factor authentication.
Spam blocker.
Import contacts from Outlook, CSV files, Gmail, etc.
File calendar and file storage.
Cons
Storage is limited.
Another email address is required as the activation key.
The private key is stored on the Mailfence server.
The email encryption code cannot be checked.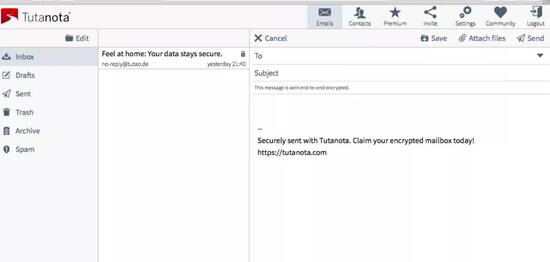 Tutanota is similar to ProtonMail in design and security level. All Tutanota emails are encrypted from the sender to the receiver and decrypted on the device. The private encryption key cannot be accessed by anyone else.
For encrypted e-mails outside the system, a password must be specified for the recipient to use when viewing the e-mail in the browser. This interface can be used to reply safely. The web interface is easy to use; however, since there is no search function, it is not possible to search previous emails.
Tutanota uses AES and RSA for email encryption. The server is located in Germany, which means compliance with German regulations.
Free accounts can use Tutanota domains to create email accounts, while paid plans can create custom domains. Tutanota domains are: @tutanota.com, @tutanota.de, @tutamail.com and @tuta.io.
Some features of this service are only available in paid plans. For example, the premium version can be purchased with up to 5 aliases, and the team plans to expand the storage to 10 GB.
Pros
App for iOS and Android.
Includes 1 GB of storage space.
Open source.
Cons
Alias addresses are only available for paid accounts.
IMAP is not supported.
Unable to import contacts in bulk.
Other tips to keep email safe and private
If you use an email service that provides end-to-end encryption, you have taken a big step toward making your email safe and private. Preventive measures to prevent hackers:
Beware that the keylogger will capture what you type. If the password is all that the hacker needs to access the account, these programs can prevent encryption.
Leave the mobile device or computer in a protected state. Also, make sure the device is protected with a strong password or biometrics and does not allow guest accounts or similar unprotected access. Also adds two-factor authentication if supported.
Beware of Phishing: Usually via email, instant messaging, VoIP or social network messaging and can be designed or customized just for you. These communications are tricks that enable you to distribute personal details such as passwords and banking information.
Do not write down or share passwords. Do not write down the password unless it is stored in a secure password manager.