Whether you visit Twitter through the web or mobile, you can use the following methods to find the person you want to find.
How to find people on Twitter with username
1. Login Twitter via Twitter.com or the Twitter mobile app.

2. On the Twitter website: Enter your name or username in the Twitter search box, and then click to view their Twitter page.
In the Twitter app: Click the magnifying glass, enter your name or username in the search box, and click the search result.
On the Twitter website, if you don't see the user, press Enter to see the complete search results page. In the app, click the search box again to display the device keyboard, and then click the Enter icon to display the full search results page.
3. On the full search results page, select people to narrow the results to Twitter accounts that only contain the search term.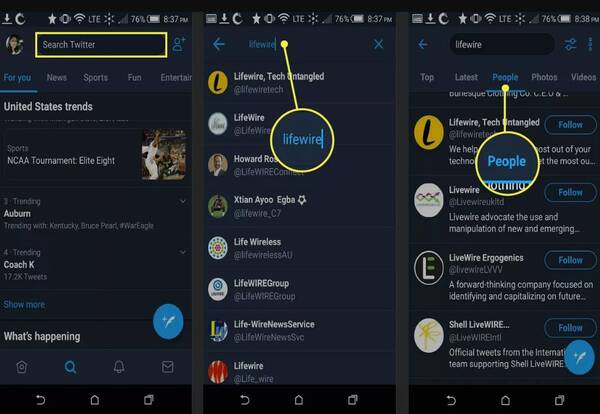 4. After finding the person, select follow next to the name or select the result to view their Twitter account page.
How to find someone on Twitter with an email or phone number
Because some Twitter users have set up private accounts, they are not allowed to find accounts through contact information. Therefore, even if the phone number or email address is uploaded to the Twitter app, the relevant person cannot be found. So, in this case:
1. Click the menu button in the upper left corner.
2. Click Settings and privacy> Privacy and safety
3. Scroll down and click Discoverability and contacts.
4. Click Sync address book contacts to enable.
The Twitter account associated with the contact will then be displayed.
Using TWITTER Who to Follow
If you want to use the web to find recommended accounts, then you can use the "Who to Follow" function on the web:
1. Open the Twitter website and log in to your account (if you are not already logged in).
2. On the homepage of your Twitter account, find Who to Follow on the right side of the screen.
3. Select an account from the recommendation list, click Show more to display a different account, or click View all to view the complete recommendation page.
4. After you find an account you like, click Follow next to your name to follow its tweet.