ProtonMail It is a free end-to-end encrypted email/mail service (provided through a web interface and mobile APP), and this continuously improved product also includes a secure calendar and file storage system.
The information in this article applies to the web version of ProtonMail and the ProtonMail app for iOS and Android.
ProtonMail advantages and disadvantages
Pros
Simple and secure email encryption.
Multiple encryption options.
Set emails to expire after a certain date.
Use the mobile app to access ProtonMail on any device.
Cons
Sometimes the web interface is slow.
Limited search and organization functions.
Integration with other email clients is cumbersome.
Free vs. Advanced ProtonMail
The free version of Protonmail provides a wealth of features. Anyone can do itSign up for ProtonMailAnd get 500 MB of online storage space for free. In addition to priority customer support and other features, paid accounts also include up to 20 GB of storage space. If you send encrypted emails occasionally, the free service is sufficient.
What is end-to-end encryption
Encryption protects the content of e-mails from snooping. When messages are sent from your computer to the recipient's inbox, they may be intercepted by malicious third parties.
With end-to-end encryption, the message is encrypted when you send it, and decrypted when the recipient opens it. Because the message can only be unlocked with the recipient's personal key, no one in the middle can decrypt it. Services like ProtonMail make it possible to transmit sensitive information without worrying about it falling into the wrong hands.
How ProtonMail encrypts email
When you exchange emails with other ProtonMail users, the emails will be encrypted using their keys in your browser or smartphone application, and decrypted when the recipient opens the email. Therefore, you do not need to set a password.
When you send a message to someone who does not use ProtonMail, you can choose to encrypt it with a password. The recipient will receive a message with a link to the ProtonMail web interface, and they must enter a password to view your message. From the same interface, they can reply to an encrypted message protected by the same password.
You can also use PGP to encrypt messages, and you can export your public and private PGP keys from ProtonMail for different services. Conversely, if you have been using encrypted email, you can import the existing key into your ProtonMail account.
ProtonMail interface
The ProtonMail web interface includes folders found in other email clients such as archives and spam. It includes color-coded labels, stars to make messages stand out, and rules to automatically mark incoming mail. Paid ProtonMail users can create unlimited custom rules, while free accounts are limited to one custom rule. It also has a simple automatic response function.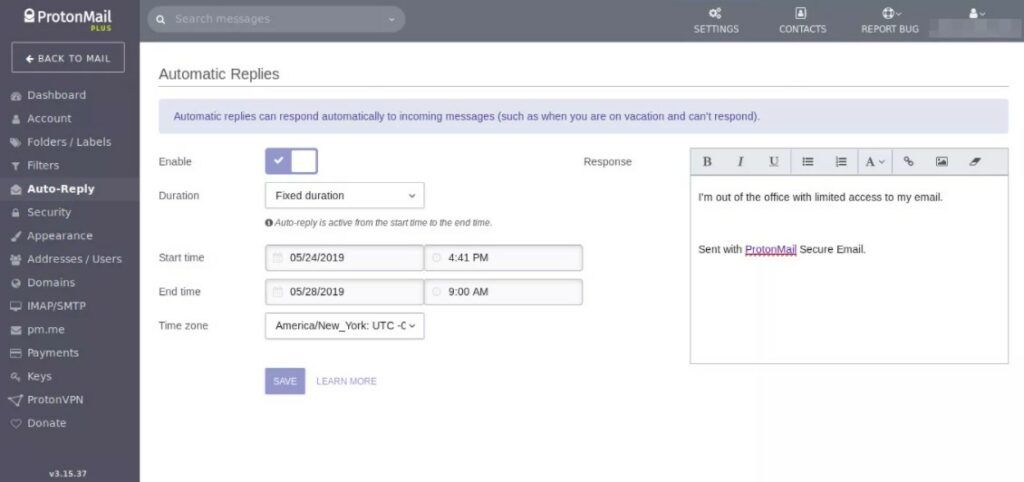 You don't have to enter @protonmail.com every time you enter the address, but select it on the ProtonMail interface pm.me Simplify it to @pm.me.
Use ProtonMail to send messages
Use the ProtonMail rich text editor to customize emails with HTML format and embedded images. Although ProtonMail supports some keyboard shortcuts, it provides limited help in composing emails. For example, you cannot set templates or text fragments, and ProtonMail does not suggest text, time, or recipients.
ProtonMail's encryption technology brings another benefit: you can set the email to self-destruct at the time you specify. To improve security, please enable two-factor authentication.
Search mail in ProtonMail
ProtonMail has a search function, but the fields that can be searched are limited to the information in the message header, such as sender, subject, and date. Encryption prevents ProtonMail from searching the message body, but if you set up the ProtonMail Bridge application on your desktop, you can extend the search to include email content.
How to use ProtonMail with other email accounts
ProtonMail Bridge Is a desktop application that can link other email accounts with ProtonMail accounts. Due to the way that ProtonMail encrypts emails, it cannot directly connect with other email clients, so Bridge acts as a remote server to facilitate communication. Any mail client that supports connecting to a remote mail server, such as Outlook and Thunderbird, can connect to ProtonMail in this way.
Although ProtonMail cannot collect mail from an existing e-mail account, it cannot be set to send mail from an existing e-mail address. Nevertheless, you can use your favorite e-mail program with ProtonMail to solve some of the functional flaws.
ProtonMail Bridge is only available for paying subscribers.