The WordPress mail subscription plugin can be used to create and increase mailing lists. Because the needs of each website are different, some may need a plug-in to create an email subscription form; some need a comprehensive email marketing solution. The following are the plug-ins for these two types of email subscriptions.
What WordPress email subscription plugins can do
When choosing an email subscription plug-in, the most important consideration is the features that are actually needed:
Do you need a complete solution to acquire, manage email subscribers, and send emails?
Do you need an email marketing service that can be satisfied with just one plug-in?
If you want a complete solution, you need the following features:
Subscription form builder
List management functions to segment subscribers
A drag-and-drop email builder, and pre-built templates
Automation options so that automatic sequences can be set
Analysis to track subscriber engagement
If you only need a plug-in to create an email subscription form, you need the following features:
Multiple form types-such as pop-up windows, embedded/embedded forms, notification bars, etc.
Detailed positioning rules for controlling the location of the form
Detailed trigger rules to control
Analyze to track conversion rate
A/B testing to optimize forms
Integration with preferred email services
7 best WordPress email subscription plugins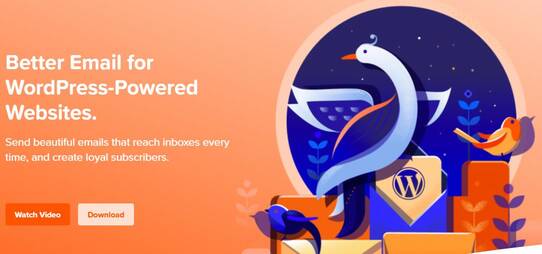 MailPoet is an all-in-one solution plugin for WordPress email marketing:
Create a form to increase subscribers.
Manage subscribers.
Send them emails using the drag-and-drop email builder.
MailPoet can basically be seen as an alternative to tools such as Mailchimp or AWeber. The main difference is that it can perform all operations in the WordPress data panel:
Create email opt-in forms and integrate with list building plugins.
Manage subscribers from within the WordPress data panel and divide them into multiple lists as needed.
Send one-time emails or set up automatic sequences, such as letting users subscribe to the latest blog posts or automatic summaries of WooCommerce products.
Reliably send emails through MailPoet's built-in mailing service (will not be identified as spam by the user's mailbox!).
Check the analysis to understand the performance of the email.
Price
MailPoet is a WordPress free plugin.
Free users can send unlimited emails to 1,000 subscribers. For more than 1,000 subscribers, monthly fees start at 13 Euros.
Pros
Complete email marketing solution. Only this one tool can realize the functions of expanding the list, managing subscribers and sending emails (which can be done in the WordPress background), which greatly simplifies the email marketing work.
Drag and drop email generator. You can design your own e-mail without professional technical knowledge. Using the official template provided by the government can greatly shorten the time for creating emails.
Set up automatic sequences to save time.
Opt-in Form. Use MailPoet to create your own email subscription form, inside Contains pop-up windows and slides; or integrates with other Opt-in plug-ins to meet more needs of users.
MailPoet delivery technology. Generally speaking, it is difficult for us to guarantee that subscribers will receive our emails, but using MailPoet's bundled delivery service, there is no need to worry about this situation, because MailPoet will handle all issues for customers.
Cons
Although MailPoet is a professional and complete email marketing solution (including a free version), if you just make some simple email registration forms, then using MailPoet is a bit wasteful.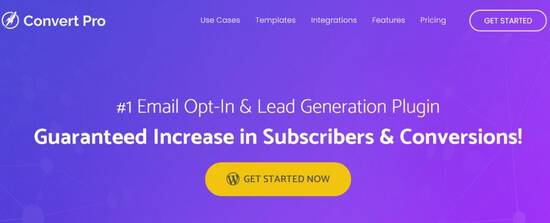 Convert Pro is a lead generation plug-in for Brainstorm Force. Brainstorm Force and the Astra WordPress theme belong to the same company.
Unlike MailPoet, it is not a comprehensive email marketing tool. Instead, it only does one business-creating an opt-in email form to increase the number of subscribers (mainly through pop-up windows). Then aggregate these forms into an email marketing service, use it to send emails and manage existing subscribers. If you want to achieve these two functions at the same time, can be integrated with MailPoet.
Price
One-year license – US$99
Lifetime license – US$399
Pros
Unlimited number of sites. After the purchase, there is no limit to the number of websites used. For multi-site users, Convert Pro is of great value.
Drag and drop editor. Use a visual editor and/or start designing opt-in forms from pre-built templates.
Excellent targeting rules. In terms of native WordPress email opt-in plugins, Convert Pro has better positioning rules.
Cons
Just a list building plugin. Still need third-party email marketing services.
There is no free version.

Thrive Leads is an advanced plug-in designed to generate leads.
It can be used to create all different types of opt-in forms that can be directly connected to the email marketing service plug-in (including MailPoet). However, this third-party service is needed to send emails-Thrive Leads can only handle the "subscriber" part. There are many types of forms, such as:
Pop-up window
Formulaire en ligne
Welcome mat
Full screen fill
Two-step opt-in
Slide-in
Small tools
Etc.
All forms have templates to use, and you can use visual drag-and-drop to customize the design; use built-in analysis and A/B testing to optimize the design, helping to find the variant that attracts the most subscribers.
Price
Use Thrive Leads on a single site, starting at $67.
Pros
Many opt-in types. From pop-up windows to inline forms, welcome mats, slides, etc.
Drag and drop opt-in builder. Thrive Leads has an excellent visual builder. It is a page builder plug-in based on developers. Compared with other builders of similar tools, Thrive Leads does a better job.
Cons
Some targeting rules are missing. Thrive Leads does not have as many positioning rules as Convert Pro or OptinMonster.
There is no free version.
OptinMonster is an advanced software as a service (SaaS) that can help get more email subscribers. A part of SaaS is not dedicated to WordPress, but OptinMonster has a dedicated WordPress plugin to connect the two.
Like the first two plugins, OptinMonster only collects email subscribers-it does not manage and send emails. To this end, OptinMonster has built-in integrations for all well-known tools such as MailPoet.
You can choose from different types of opt-in (such as pop-up windows and notification bars), and use super detailed positioning and triggering rules to control them.
In terms of positioning rules and personalization, OptinMonster is probably the most powerful tool on this list, which can greatly increase the conversion rate of the form (so there are more email subscribers!).
Price
Pricing starts at US$108 per year. However, each plan has different features, page viewing restrictions, and website restrictions. You can check the pricing page Get a suitable subscription plan.
Pros
Super detailed targeting rules. If you are willing to take the time to delve into all these rules, they can help you add a lot of personalized content to the opt-in form (which means higher conversion rates).
E-commerce-specific targeting rules. This is related to the above point, but if you have an e-commerce store, you will get some great rules that allow you to position based on criteria, such as items in a shopping cart.
Super detailed trigger rules. In addition to these positioning rules, many trigger rules can also be obtained to control the appearance time of the pop-up window. For example, exit intent.
Cons
There is no free version.

Newsletter is a well-known e-mail subscription plug-in, which has many similarities with MailPoet. In other words, it provides a comprehensive solution for WordPress email marketing. You can drag and drop the editor to create an opt-in form, manage subscribers, and send emails by simply operating in the WordPress data panel.
The premium version can also choose to set up an automatic sequence (compared to just sending a one-time email in the free version). For example, you can send a welcome email or an automatic summary of the latest blog post. The advanced version also adds more detailed analysis and reporting options, as well as some integrations with third-party opt-in tools.
It should be noted that if you want to send an email to the customer's inbox, you need the help of a third-party sending service, such as SendGrid or Mailgun.
Price
Newsletter is a free plugin for WordPress. If you want to use premium add-ons, plans start at $92.
Pros
Complete email marketing solution. Like MailPoet, Newsletter can manage almost the entire email marketing operation, just operate it in the WordPress data panel.
Drag and drop builder. Use drag and drop to design emails.
Automatic email (paid). Automatically send welcome emails, new post summaries, etc.
Formulaire d'inscription. Créez votre propre formulaire d'Opt-in de base ou intégrez-le à d'autres plugins d'Opt-in (version payante et son intégration) intégration.
Cons
There is no built-in delivery service. Unlike MailPoet, although it is compatible with almost all WordPress SMTP plugins, it does not have its own delivery service.

MailOptin is a WordPress email subscription plugin with two core functions, depending on the version purchased:
Potential generation – Create opt-in forms and pop-up windows to increase the list of email subscribers.
Email Automation – Create automated email campaigns (such as summaries of the latest posts) and send them through your preferred email marketing service.
There is also a free version on WordPress.org, which focuses on lead generation .
With the help of lead generation function, you can:
Create various opt-in forms to connect to email marketing services.
Start with pre-made templates and customize everything with a visual editor.
Use positioning and triggering rules to control when the opt-in form appears.
With Email Automation, you can use the visual builder to set up automatic and event-triggered emails, such as new post notifications or weekly summaries of the latest blog posts.
It should be noted that even if the email automation function is used, a separate email marketing service is still required to send emails. MailOptin allows you to create and manage emails from the WordPress data panel, but it needs to be used with third-party tools because it cannot manage subscribers or send emails on its own.
Price
MailOptin's free version function on WordPress.org can only create simple opt-in forms. If you want to gain access to more lead generation features, you can purchase the standard version for $79.
If you want to use email automation, you need to purchase the Pro version for $199.
Pros
Stellar list building options. MailOptin has many different form types and positioning rules to help get more email subscribers.
Email creation tool. Email sequence can be created from inside the WordPress data panel
Many integrations. Includes MailPoet integration.
Cons
No email sending/subscriber management. Although there is an email automation function, a third-party email service is still required.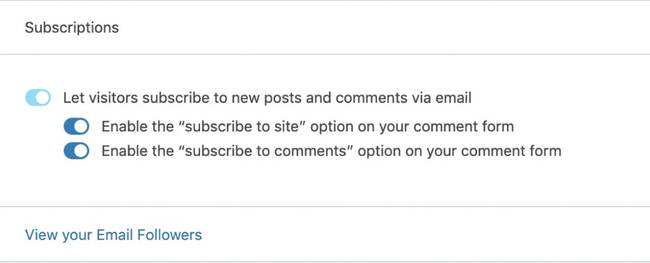 Jetpack is an "all-in-one" plugin from Automattic, which belongs to the same company as WordPress.com and WooCommerce. Jetpack is super simple and free, allowing visitors to choose to subscribe and receive e-mail notifications of the latest content; there are three e-mail frequencies: immediate, daily or weekly.
Price
Free.
Pros
Super simple. Very easy to operate, Jetpack will do all the work reliably.
Different frequencies. Each subscriber can choose different frequencies according to their own preferences.
Subscribe easily. You can add a subscription checkbox in the comment form so that people can easily subscribe to notifications when they post comments (or create a dedicated form).
100% free. All functions are always free.
Cons
No custom email. You can't send your own e-mails-you can only post notifications automatically.
No customization. The design/content of the notification email cannot be customized.
Limited subscriber management. The options for managing email lists are far from using full email marketing tools.
Which is the best WordPress email subscription plugin? (how to choose)
The so-called best WordPress email subscription plugin depends on your needs and budget.
Comprehensive choice (suitable for most situations): MailPoet
Limited budget: Convert Pro or Thrive Leads
The website is willing to invest in the long-term (may need more advanced features and rules in the future): OptinMonster
In addition, the above opt-in plug-ins can be seamlessly integrated with MailPoet. So, if you want to manage and send all emails directly from the WordPress data panel in the future, you can switch to MailPoet at any time and continue to use any original opt-in form.