ZabaSearchIt is a website to find information related to Americans (or people living in the United States, such as Chinese, immigrants, overseas Chinese, etc.). For example, names, addresses, and phone numbers can also be used to verify information such as addresses.
Using ZabaSearch to find information about someone is very easy, you can search by name or phone number, and you can narrow the search to cities and states.
All data collected by ZabaSearch is publicly available online.
If your personal information is also excavated by this site, if you want the site not to include and keep your own records, you can delete your data from ZabaSearch.
How does ZabaSearch find personnel information
The ZabaSearch website uses public means to find personal information, including property records, yellow pages, white pages, marketing forms, sweepstakes entries, social media profiles, personal sites, voter registration records, etc.
ZabaSearch does not host or own any such information. Using this website is just to gather the data and information you are looking for and make it easy to view.
ZabaSearch is very useful in finding people's information, but it is controversial because it exposes private sensitive information. In fact, ZabaSearch just digs out all kinds of information that has been uploaded to the Internet.
Many people are worried about the information on ZabaSearch and similar sites. For example, if you have ever bought a house, got married or divorced, etc., then this information will appear online.
How to find people in ZabaSearch
There are several ways to use ZabaSearch:
Search for people by name
You can search for a name on ZabaSearch to find someone's information by:Text box on homepageJust enter its first name and last name.
If you know the state where the person lives, select from the list; if you don't know which state the person lives in, select "All 50 States".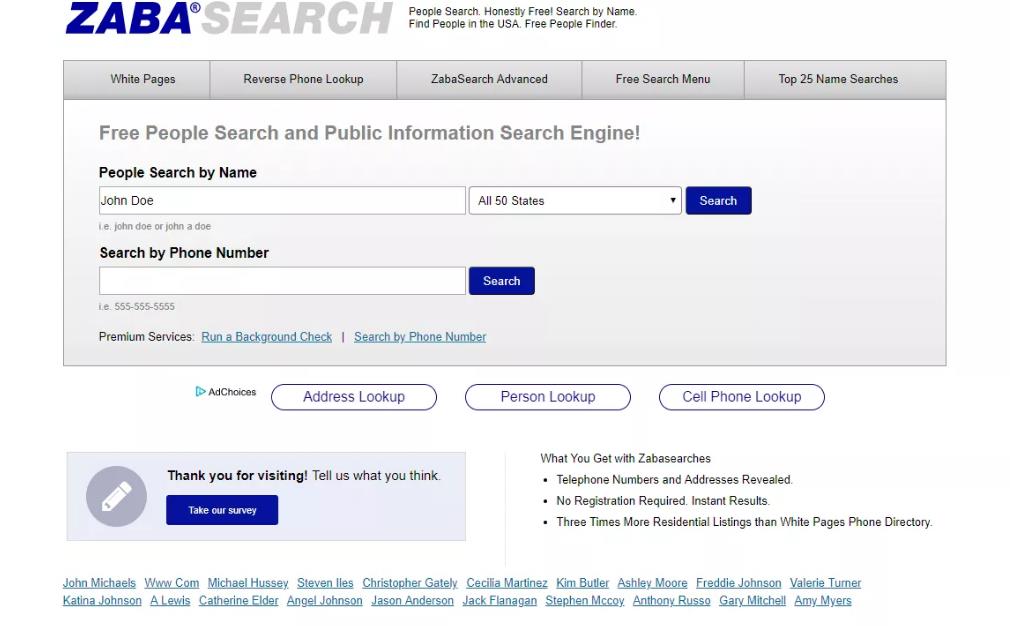 Search for people by phone number
On the ZabaSearch homepage orReverse phone lookupIn the page, use the phone number to search for someone.
Use ZabaSearch to find out who the owner of the phone number is, of course, including yourself (how to delete your own information will be described later)
ZabaSearch advanced search to find people
Use ZabaSearchCommon name advanced searchTools can greatly narrow the search scope.
This tool can enter not only the first name and last name, but also the middle name and the city and state where the person lives.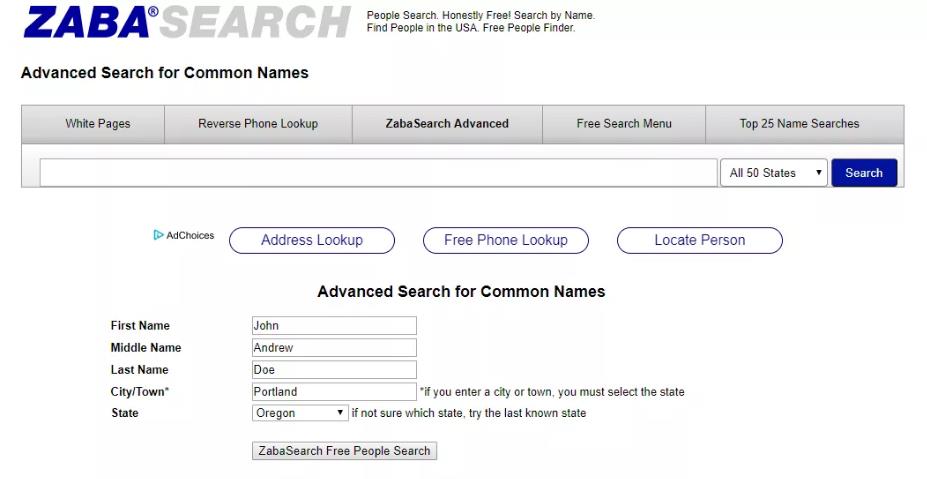 After searching for names, filter the results further by restricting age. If you're not sure about the person's age, just selectAll AgesThat's it.
However, the search results do not have much information other than the person's name, address, and phone number.
If you want more detailed information, click on theView full profile(View full profile),Will go to Intelius to display detailed results. (After the result comes out, if you want to check it, it will cost a little bit, about $1).
How to delete your own information from ZabaSearch
If you find that ZabaSearch has its own information, this information has errors that need to be corrected, or you do not want others to find your own information, you can ask ZabaSearch to delete the information.
However, it should be understood that this method only prevents ZabaSearch from digging its own information, and is only applicable to this website. Other searching websites may still find this information (you can also delete your information from other searching websites), unless The entire Internet has no information of its own.