Free emails may be everywhere, but some free services are not inferior to paid services at all. This article will introduce you to several free e-mail addresses and their outstanding features.
Never disclose personal information such as home address or phone number in e-mails. E-mail addresses usually consist of a few numbers or a meaningful word. If you are worried about privacy leakage, these types ofSecure email serviceIs the best choice.
Pros
Including private messaging function.
Excellent spam protection function.
15 GB of email and other file storage space.
Can be integrated with other Google services.
Cons
Complex folder/label function
It may not be surprising that Gmail ranks high on the list of the best free email accounts. Google's free email service is modern, closely integrated with the company's other services, and does a good job of preventing spam.
It also has some other nice features, such as choosing to send emails later, sending and requesting payments via Google Pay, scheduling emails to be sent later, and reading emails offline. You can also send expired emails that require a unique code to open, store the emails in a 15 GB vault, share files in your Drive account, cancel sending emails, and set vacation replies.
Now that Google Workspace is available to everyone, Gmail is more closely integrated with other Google products. Workspace allows you to collaborate on projects or hold virtual meetings. It works in conjunction with the Picture-in-Picture feature of Meet, so you can see and hear the people working with you when you are composing a message or reading an email.
You can apply different themes to Gmail's interface to customize its display, access a large number of advanced settings, create filters and labels, import emails from other email accounts, and use chat clients. You can also install gadgets (add-ons) to extend the functionality of Gmail.
All addresses start with@gmail.comend.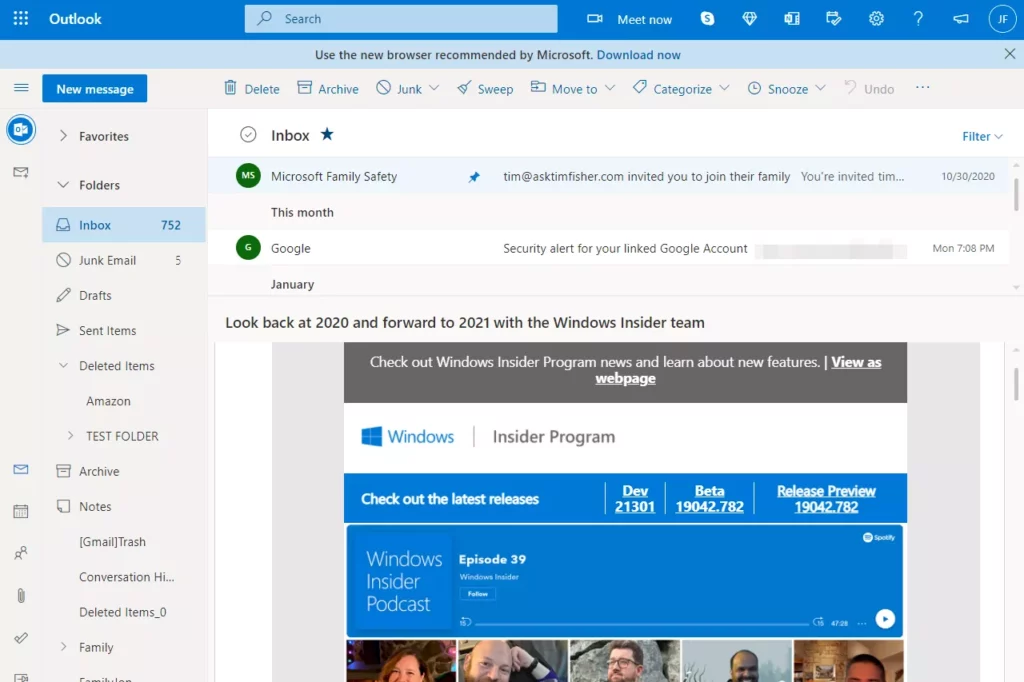 Pros
Clean interface and easy to use.
Work closely with other Microsoft services.
Organize mail automatically.
Multiple account aliases hide your actual email address.
Cons
Sometimes it takes a while to load.
Microsoft Outlook is Microsoft's free e-mail service. Like Gmail, it has a reliable interface that is easy to navigate. It is easily second only to Google's services and even the best free email provider.
The website is intuitive; it's as easy as right-clicking an email to find more options, including moving and deleting messages and searching every email from that sender.
Outlook supports mail rules, which means you can set new mail to be automatically moved to a specified folder, categorized, marked, or forwarded when certain conditions are met. You can connect directly to Skype via email and use add-ons such as PayPal and DocuSign.
Email address can be@outlook.com or@hotmail.comend.
Pros
Plenty of email storage space.
Let you make hundreds of free one-time email addresses.
Includes a built-in GIF database.
It is easy to use Yahoo Calendar from the email area.
Cons
There is only one choice for email domains.
There are not as many filters/rules as other email providers.
Yahoo Mail is notable because every new user can get 1 TB of free email storage.
The compose window is similar to Gmail, but there is a useful difference; it is easy to switch between embedded image attachments and regular file attachments.
Yahoo Mail is probably the best email service because it involves alternative identities or aliases. You can create up to 500 one-time addresses linked to your inbox without revealing your actual address. This feature is useful when you sign up for an account and don't want your regular inbox to receive spam or full of useless emails; if the spam becomes too much, delete the one-time address.
You can also insert GIFs from the built-in GIF collection, use themes that change the background and color scheme of your website, and import contacts from files on your computer and other accounts such as Facebook or Outlook. You can also use the built-in notepad, attach files from Google Drive or Dropbox, access online calendar applications, and connect to external accounts so you can use one interface to manage email.
Yahoo Mail email address is set to example@yahoo.com.
Pros
The calendar and to-do list can be easily accessed from the email page.
Choose a theme to choose from.
You can check the spelling before sending each email.
Cons
It's easy to accidentally open the news section instead of your email.
Lots of advertisements.
Certain features require a paid AOL Desktop Gold subscription.
AOL Mail is another free email account option. The homepage includes headlines from AOL.com, which can be viewed as a pleasant addition, or it can look messy, depending on your preference.
As with most email providers, you can filter messages to show only unread or read emails or marked or unmarked messages. With AOL Mail, you can block mail senders and set up filters.
Your AOL.com account comes with a calendar and to-do list that can be accessed from your inbox. However, some features (such as chat rooms) require a paid AOL Desktop Gold subscription.
IMAP and POP server settings no longer appear in AOL settings, but if you need them to use your email with other clients, you can get them here:
AOL Mail is different from the discontinued AOL Instant Messenger (AIM). The former is an email service, and the latter is an instant messaging service.
AOL email address provides you with something likeexample@aol.comEmail, but if someone givesexample@aim.comSend a message, you can also receive mail.
Pros
10 GB storage space that can be shared with email and other Yandex services.
Allows you to register using your existing Facebook, Twitter or Gmail account.
If the recipient does not reply after the specified number of days, you will be reminded.
Includes a built-in translator.
Cons
2FA requires a special Yandex app (most providers use Google Authenticator).
The 24-hour time format cannot be changed.
All email accounts end in the same domain.
Yandex is a Russian company that provides many tools and free email accounts, such as 10 GB cloud storage services, Yandex.Calendar and search engines. Like Google, Yandex.Mail email accounts can access these services with a single login.
Friendly interface. It is easy to read and provides a simple layout, while still keeping all the necessary tools intact. Like most other providers on this list, this provider supports email filters, contact import and export, tasks, and hot keys.
However, it is also unique in many ways, making it one of the best products. Multiple messages can be easily forwarded; they are sent as file attachments. You can choose to download emails as EML files, support delayed messages, receive email notifications, no email reminders, and the part after @ can be your website domain name (free). 
By default, all addresses start with @yandex.com end.
Pros
Rely heavily on encrypted email data.
Send encrypted emails to anyone, even if they don't use ProtonMail.
The new account can end in one of two domains.
Choose when the email will expire.
Cons
The storage space is limited to 500 MB.
The free account is limited to 150 messages per day.
No holiday reply.
Only three folders are supported.
The main difference between ProtonMail and other e-mail services is that the service is centered on e-mail encryption. The idea is that you can send mail without worrying that the people of ProtonMail or anyone other than the recipient can read the mail.
Mail sent to other ProtonMail users is always encrypted. Otherwise, when you are ready to send an email to a non-ProtonMail user, please select this button first. If you encrypt a message, you can set an expiration time so that it will be destroyed and unreadable after the duration you specify.
The maximum expiration time is 4 weeks (28 days), but you can choose an earlier time, such as 1 to 6 days or 1 to 23 hours. If you send a message to a non-ProtonMail user without defining an expiration time, the message will expire after 28 days.
The recipient of the encrypted message opens the email through a link that requires a password, where the password is decrypted and displayed in the browser. They can reply with the same message they decrypted through an encrypted channel, and they don't need a ProtonMail account.
Another privacy-focused feature is link confirmation, which prevents phishing attacks by displaying a pop-up window when you select a link, allowing you to confirm its whereabouts before actually visiting.
You can choose to use @protonmail.com or @protonmail.ch email address.
Pros
Suitable for teams.
Supports tabbed email window.
It is easy to connect to other Zoho applications.
The design is simple and clear.
Cons
All other interconnected Zoho applications can be overwhelming.
It is mainly centered on commercial use.
Although Zoho Mail provides a free e-mail service, Zoho is an online suite that contains a number of business-centric applications.
When writing a message, the first thing you might notice is the minimal design, which can be a great thing. When you make a new email, you can quickly switch between the email and the rest of the email via the small tab at the top of the page.
The streaming function makes it easy to create groups where you and your team members can interact with shared messages and attachments. It works a bit like a private social media website.
All standard writing tools are included, but you can also add files from Zoho Docs, Google Drive, OneDrive, Box, and other services, and include tables in your messages. It also allows you to create new notes and tasks, use keyboard shortcuts, enable automatic management filters, set vacation replies, and send custom domains to an approved or blocked list.
All addresses start with @zohomail.com ends.
Pros
Automatically encrypt emails.
Send encrypted emails to non-users.
Several domain options for new accounts.
A strong email password is required.
Cons
Includes 1 GB of storage space.
Certain functions require a paid account.
Tutanota ("tuta nota" in Latin, meaning "secure message") is similar to ProtonMail in that it automatically encrypts your email. However, you can disable end-to-end encryption as needed.
One thing that stands out is that you cannot create an account until you set a secure password. Some places urge you to increase the password strength, but still accept it: Tutanota needs it.
The web interface is simple and clear, and provides a menu conversion that combines mail folders and e-mail settings. When sending messages to non-users, you can set up password protection or no encryption for them. If a password is specified, the recipient will get a custom link to open the message; they must enter the password to read and reply.
The best feature is that when users do not use Tutanota to reply to emails, the emails are still included in the temporary account. You can communicate back and forth with any other email service, and the recipient can always keep the link open.
Although it is not as famous as Gmail or Yahoo, Tutanota allows you to have an email signature, use up to 1 GB of storage space, and automatically add email recipients as new contacts. You can pay for advanced features.
You can create an account with any of the following domains:  tutanota.com, tutanota.de, tutamail.com, tuta.io, keemail.me.
Pros
Easy to set up for Apple and PC.
It's easy to unsubscribe from the email list.
Includes 5 GB of free online storage space.
Work on a computer or mobile device.
Cons
Not as advanced as some other suppliers.
iCloud Mail is an interesting service because many people don't realize that they are only a few steps away from having a service. For this reason, it is one of the better providers: most people can complete the setup in a few seconds.
Anyone who signs up for an Apple ID can use iCloud mail for free, but it is not limited to Apple products. Anyone can get a free iCloud ID and access iCloud mail on their computer-even a Windows 10 computer.
After creating an account, you can log in from any computer and access a series of products except mail, such as notes, reminders, photos, iCloud Drive content, contacts, calendar events, and any other content synced from iCloud to iCloud. Your iOS equipment.
The email part of iCloud is not super advanced, and if you want many options, it may not serve you well. However, it is effortless to set up, and you don't have to go through the tedious process of adding a name and choosing a password. All of these apply to your existing Apple ID or new free iCloud account.
You will get 5 GB of free storage space for emails and other iCloud files, IMAP support, forwarding options, large file attachment support (up to 5 GB via Mail Drop), and two ways to unsubscribe unwanted emails.
The new iCloud account starts with@icloud.comend .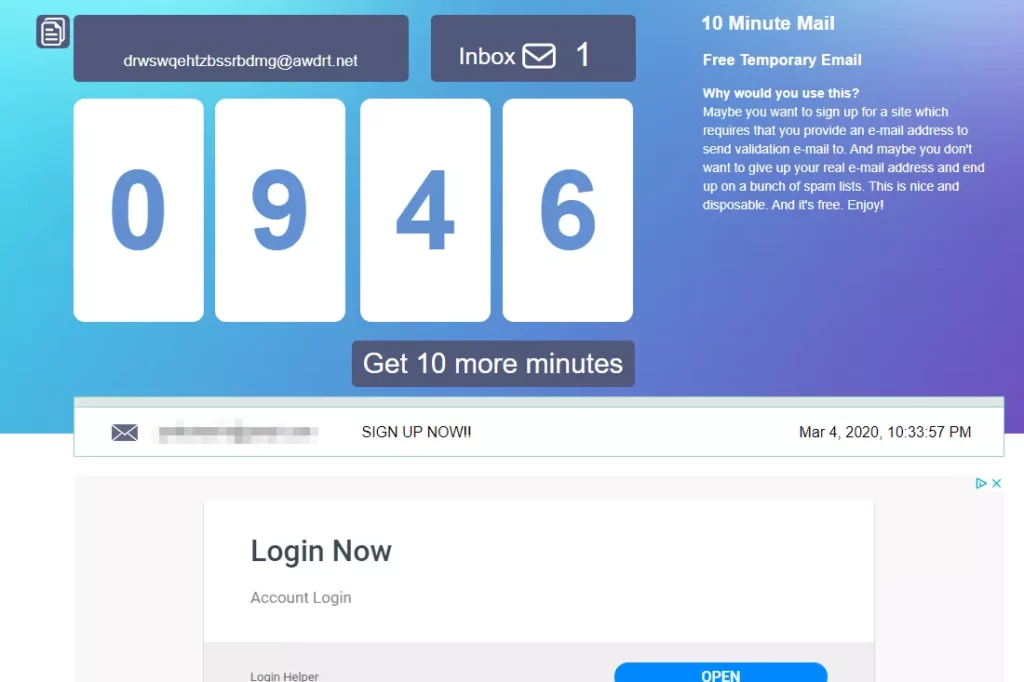 Pros
Give you an address in a few seconds.
You do not need to create a user account to get an account.
It will automatically dissolve after 10 minutes.
Cons
Each account has a 10 minute limit.
The address is too long to remember.
If you need an email address temporarily now and do not need to go through the typical user registration steps, then 10 Minute Mail is one of the best email services.
As the name suggests, it is not a mature email provider because it only provides 10 Minute accounts. However, it is included here because it is perfect for any time you need a temporary email account.
Don't provide your main email for everything else, but insert a one-time address from the site. You will receive e-mails just like using a normal account, but it has nothing to do with your identity. When the time is up, you don't have to worry about closing your account, deleting e-mails or anything-exit the page or let the time expire.
10 Minute is the perfect choice when you are testing the service and do not want to receive emails in your regular inbox. This is also helpful when sharing your email address with people you don't trust. This is a valid email account from which you can get verification emails and replies, but it will disappear soon.
You can use it for longer if you want, but you must reset the clock before the end of 10 Minute using the button on the email page.